Dear HART Supporter,
Lots to report since our last eNewsletter in January - please read on.....

Dog Population Management & Rabies Eradication
No Babies, No Rabies
We have now completed the systematic survey (by direct observational count) in all 18 Wards of Pokhara Sub Metropolitan City. This has enabled a base-line estimate of the current free roaming street-dog population.

You may recollect from our previous eNewsletter that a minimum of 70% of the dog population must be annually vaccinated against rabies in order to control, and ultimately eliminate, this lethal disease.

We are pleased to report that our data indicates 91% of the free roaming dogs in Pokhara City have now been vaccinated against rabies, putting us well ahead of target.



The survey also indicated that 53% of the bitches in the 18 Wards
were found to be unspayed
. Following completion of our survey, we were able to focus our time and resources into conducting the Catch Neuter Vaccinate and Return (CNVR) programme.

Engaging the community is essential to a successful programme and we are greatly encouraged that 23% of our dogs have been brought to HART by their owners. The Pokhara
District Livestock Office (DLSO)
is very supportive for our work and already 2% of our patients have been referrals from them.
Back to top
---
Biratnagar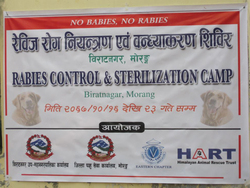 We were delighted to be invited by the District Livestock Office (DLSO) in Biratnagar to provide technical assistance to the collaborative group of DLSO, Biratnagar Sub Metropolitan City Office and the Nepal Veterinary Association (Eastern Chapter) in conducting a pilot sterilisation programme at the start of February.

Biratnagar is Nepal's second city and home to some 700,000 people.

The World Health Organisation estimated the dog population at 5-8000 in 2006 and the Biratnagar Municipality has traditionally used poisoning as their means of controlling these numbers.

The Municipality provided funding towards the project, a first for Nepal, and set a target of spaying 100 dogs over a 7 day period. We were very pleased to demonstrate the viability of a Catch, Neuter, Vaccinate & Return programme by neutering and anti-rabies vaccinating 106 dogs in just 5 days, supported by the veterinarians from the DLSO and Directorate of Livestock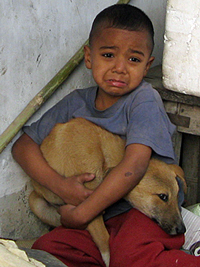 The little boy pictured here saw the Municipality truck and mistakenly assumed that the authorities were collecting dogs for poisoning as usual.

So he tearfully hid himself and his beloved dog.

Fortunately this time, the dogs were being collected for neutering, anti-rabies vaccination and a general check over - then a safe return to their community.

Biratnagar Municipality has demonstrated an early commitment to eradicating rabies and improving life for street animals by their allocation of funds and by placing one of their vehicles at our disposal. This is a positive indication that they are moving towards a cessation of poisoning campaigns.

We intend to work further with the Biratnagar authorities with the aim of a complete suspension of poisoning.
Back to top
---
People
We are very pleased to announce the expansion of our clinical team by the recent appointment of Dr Prafulla Regmi BVSc & AH as Veterinarian.

Dr Regmi graduated from IAAS, Rampur in 2010 and spent time at the Central Veterinary Hospital in Kathmandu.

He's been passionate about animals since his childhood in Chitwan and his talents are a welcome addition to our team.

Said Dr Regmi "...working at HART has augmented my love and care for the stray dogs and I'm loving every moment working with a lovely team of co-workers dedicated for a genuine cause..."

Dr Parsuram Phuyal, who has worked with HART since its inception, welcomed his new colleague and is looking forward to sharing the technical burden.

---

We have been most fortunate to have the assistance of two volunteers during January and February.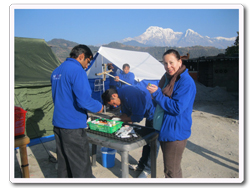 Laura Pratola is a very experienced Vet from the UK.

She struggled against the transport disruption caused by the heavy December snow in the UK and finally flew to Nepal on Christmas Day.

She's seen here helping to prepare for one of our anti-rabies vaccination camps held in the Annapurna foothills above Pokhara.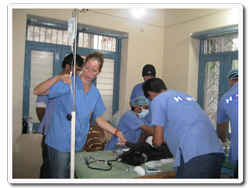 Sophie Beckwith is a highly talented Vet Nurse from the UK who has considerable experience of volunteering abroad.

Said Sophie "...my experience at HART was fabulous. The crew are great, the work they are doing is great and they made me feel really welcome. I wish I could have stayed longer, but I have said I will return."

Sophie came home from her trip to Nepal and within 10 days was off again to help out neutering cats in Greece.

---
We are always grateful for clinical volunteers. To find out more about volunteering please contact our Director, Mr Khageshwaar Sharma.
Back to top
---
Education About Animals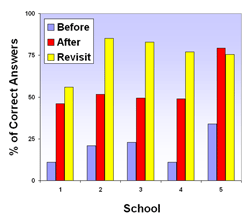 In February we made the scheduled four-month follow up visits to five schools in order to assess the pupils' long term retention of information.

The five schools were selected as being representative of school type and pupil age group.

The results of the pupil testing before and after the initial classroom sessions, and then again during the revisit, are given in the chart on the right.

This shows a very gratifying overall improvement with, on average, 75% of questions now answered correctly, which compares very favourably with just 20% at the beginning of our programme.

And this new knowledge is clearly being put into practice - the incidence of recent dog bites has fallen from 25 to just 6 among the 145 children involved in the revisits. That's really good news - fewer dog bites means less chance of human rabies.
---


Very many thanks for your continued support
www.hartnepal.org


If you would like more information about our work, please visit our website or contact our Director, Mr Khageshwaar Sharma, at k.sharma@hartnepal.org

© Himalayan Animal Rescue Trust 2011