Dear HART Supporter,
We have now started the second phase of our programme in Pokhara Sub Metropolitan City and are continuing our expanded work in Bharatpur, Chitwan. Please read on to learn about these activities and about our staff visit to the International Training Centre.....
Pokhara - Dog Population Management &

Rabies Eradication
'No Babies, No Rabies'
A repeated dog census is now underway in all 18 Wards of Pokhara Sub Metropolitan City (PSMC) to evaluate the current number of spayed/unspayed bitches following completion of the first phase of our 'No Babies, No Rabies' programme.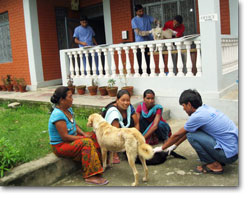 This will also establish the total number of dogs prior to re-running the MARV and CNVR programmes in the second phase.
So far the census has been completed in 8 Wards and the data shows that 29% of those female dogs remain to be spayed.
---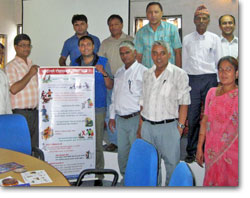 We are delighted to announce that PSMC has funded the production of posters illustrating the avoidance of dog bites. We will hand these over to the schools after each of our classroom sessions.

The Mayor of Pokhara, Mr Meghnath Kafle, is pictured here formally presenting the posters to our Director, Mr Khageshwaar Sharma, during a recent PSMC Board Meeting.
Back to top
---
Bharatpur, Chitwan - Dog Population Management & Rabies Eradication
'No Babies, No Rabies'
The census of free-roaming dogs conducted in all 14 Wards is now completed. By direct observation we have counted 1078 free-roaming dogs within the Bharatpur Municipality.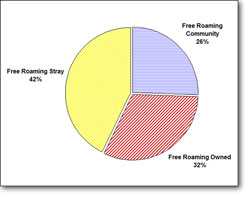 These free-roaming dogs were categorized into Stray, Community and Owned, and the breakdown is as follows:

42% Stray
26% Community
32% Owned

The Public Health Office (PHO) in Bharatpur collaborated with HART to conduct a pilot mass anti-rabies vaccination programme. The Bharatpur Municipality and District Livestock Office also participated. The PHO has kindly donated 400 vials of anti-rabies vaccine towards our projects.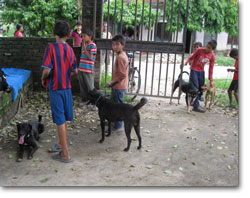 Through this initial joint effort, 23% of the dog population (according to our dog census data) has already been vaccinated.

HART is now continuing the mass vaccination programme to reach the requisite minimum of 70% of the free-roaming dog population.

During the mass anti-rabies vaccination programme leaflets
containing information on rabies and the importance of spaying
are widely distributed within the community .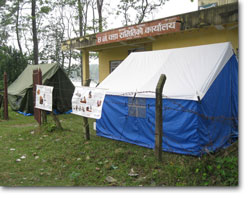 As a result, communities have shown great interest in spaying and have been contacting our Community Liaison Officer to request our services.

HART's Community Liaison Officer is now liaising with the Municipal Ward Secretaries and Community Development Committees to arrange field spaying camps in their respective Municipal Wards.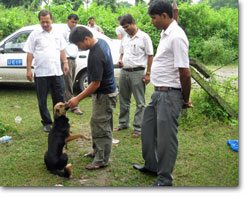 We are in discussions with various government agencies to enable the use of their land to hold street-dogs after surgery for those dogs where there is not a suitable community member to assume responsibility for post-operative care.
Following our recent written agreement with the Bharatpur Municipality they are spreading the message on a wide scale through press and FM radio stations.

Mr Tikaram Kadel (Bharatpur Municipality Administrative Officer) and Mr Ram Krishna Dhakal (Community Development Officer) are pictured here arriving for an inspection visit at one of our field camps on behalf of the Municipality.

We would like to extend a particular thank you to our supporters who have specifically supported the Bharatpur 'No Babies, No Rabies' project.

---
Hitlal KC
We were delighted to meet another animal lover in Bharatpur.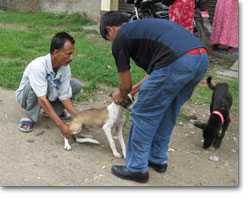 Hitlal KC has been working hard rescuing animals from the streets, feeding and even taking them to the DLSO Vet Hospital -
and all at his own expense,
.

He is thrilled that HART has expanded into Chitwan and has been helping us during the MARV programme. His presence during the MARV has been of great help, especially in assisting us to catch particularly difficult dogs.



Hitlal is pictured here helping
Biswabandu Tiwari, one of our dog handlers.

Back to top
---
HART technical staff visits the WVS International Training Centre
Both of our vets and our senior vet technician spent a week at the WVS International Training Centre in Ooty, India, run through Worldwide Veterinary Service. Various surgical and dog catching techniques were explored and practiced. Our staff have reported that the visit has been very informative and they have already further upgraded their surgery standards and protocols.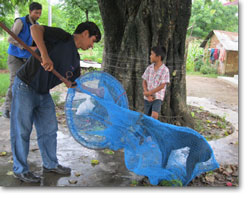 ITC very kindly arranged to provide the materials and design for this giant 'butterfly' net, which is not available in Nepal and is proving a great assistance in catching even the most uncooperative dogs.
We would like to sincerely thank WVS and the staff of ITC for providing these valuable places on their training course.



Following her spell as tutor at ITC, UK vet Dr Joanna Milne will be joining HART for several weeks from early August.

Back to top
---
People
We have recently welcomed Dr Basanta Raj Wagle, Veterinarian, and Narayan Dhakal, qualified Technician, to join our staff. Dr Wagle has taken the position of Dr Prafulla Regmi.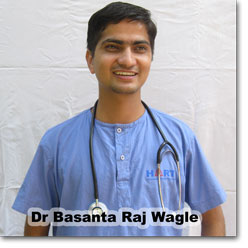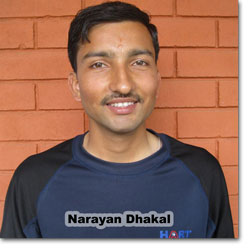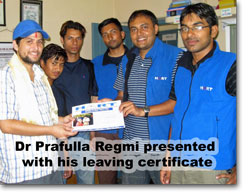 Dr Regmi has joined the government service as a Veterinary Officer at the Quarantine department in Birgunj and we wish him well in his new post.

He is pictured here receiving his leaving certificate from our Director, Mr Khageshwaar Sharma.




Back to top

---
---


Very many thanks for your continued support
www.hartnepal.org


If you would like more information about our work, please visit our website or contact our Director, Mr Khageshwaar Sharma, at k.sharma@hartnepal.org

© Himalayan Animal Rescue Trust 2011