Dear HART Supporter,
The past two months represent the peak of the autumn trekking season in Nepal and the streets of Pokhara and Kathmandu have been full of tourists and trekkers enjoying fine weather (except for in Lukla) and the festivals of Dashain and Tihar.

HART's work has been boosted by the welcome assistance of volunteers and well wishers.

Please read on to learn about our recent activities.....
Renewal of our MOU in Pokhara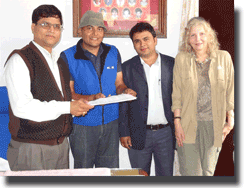 During a visit from HART co-founders, Jim Pearson and Barbara Webb, the CEO of Pokhara Sub Metropolitan City (PSMC), Mr Meghnath Kafle, signed the renewal of HART's Memorandum of Understanding with the city.

There was common agreement that the work so far has resulted in an urban environment that is safer and kinder for both humans and animals.

It is also essential that the work continues and no momentum is lost.
Back to top
---
Facilities in Bharatpur
Bharatpur is a very different place from Pokhara.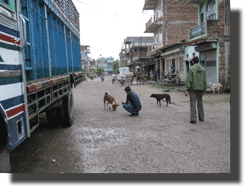 It is situated on the edge of the flat plains and is primarily a market and agricultural town.

Compared to Pokhara there are far fewer animal lovers in the community prepared to look after dogs recovering from sterilisation and HART therefore requires facilities to look after post-neutered dogs before they are returned back to the community.

The DLSO has very kindly offered to provide space for HART to build kennels in its spacious compound in the centre of Bharatpur.
Just as generously IAAS, situated about 30 minutes by car from the centre, has also offered space for HART to build kennels in its proposed new veterinary teaching complex.

These new facilities will enable the neutering programme to continue throughout Bharatpur and offer the best possible care to the animals who pass through them.
Back to top
---
Awareness campaign has a long way to go
This short extract from an email received from a Pokhara resident, Melinda Philips, shows how cruelty is prevalent and still acceptable to many people.

It is quoted with Melinda's kind permission and relates to a female dog she and her family saw being rowed across the lake, beaten and abandoned, and which they then returned to try and find.



"...Unfortunately we returned to the cove on the other side of Lake Phewa but she wasn't there.

We spent some time going through the bush to find her as we thought she may have found shelter but still be close to the place she was abandoned.

We believe her owners coudn't control her barking so had asked a local to remove her and he had taken her there by boat, beaten her badly with an oar and left her.

We screamed at him and he explained she was a 'bad' dog and left her. We comforted her but thought not to take her in case she returned to her home and was hurt again.

We were so sad to not find her but we hope she found peace in one form or another?

We are however delighted to see your organisation here in Nepal and will be in touch again soon for more advise and some cards etc to hand out perhaps.

Congratulations on your program..."


This incident occurred on 6th November but the dog has not been found.
Back to top
---
Volunteer update
Dr Russell Lyon returned to the UK in October having made a huge contribution to all the programmes and having become a firm friend and advisor,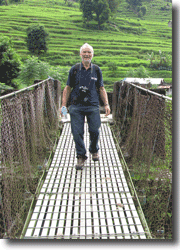 He has written two articles for the Veterinary Times, the first one being "A month in the HART of Nepal" which was published in the 07 November 2011 issue. With the kind permission of Veterinary Times you can read the article here

Dr Clare Muir arrived at the end of October, having spent a month in Ethiopia working on an equine project, and promptly joined Dr Wagle in the clinic. As well as working with the HART vets on the Pokhara programmes she will be conducting research into equine parasites using facilities provided by AHTCS and the Regional Vet Lab.

Heleen Eppens and Danielle Keekstra, final year vet students, also volunteered their services for a fortnight during this busy period in Pokhara. They were able to provide invaluable assistance to Dr Wagle who was in charge of the veterinary side of HART during Dr Phuyal's leave of absence whilst taking further examinations.

Back to top
---
Extension Programme
Regular readers may recollect that, at the invitation of the DLSO Morang and the Biratnagar Municipality, HART last year conducted a spaying program in Biratnagar in the Morang District of far-eastern Nepal.

Following two human rabies deaths in the village of Hasanda, Morang District, a group of animal lovers later requested that we conduct a spaying and anti-rabies programme in Hasanda and neighbouring Sanischare village. These concerned villagers also conducted a community survey to estimate the dog population in their villages. At the time of writing our team are working in these villages and, once completed, will be moving to Illam District to introduce a spaying programme in that area.

The Illam Municipality had planned to poison street dogs but, thanks to the intervention of Mr Kumar Khatri of the DLSO Illam, this plan was abandoned to allow us to spay instead. On behalf of HART, its supporters and the dogs of Illam, we would like to extend our heartfelt thanks to Mr Khatri for preventing the poisoning and for encouraging the Illam Municipality to support the spaying programme.

We will report further in our next newsletter about the work in Hasanda, its adjoining villages and in Illam.

Back to top
---
Christmas Appeal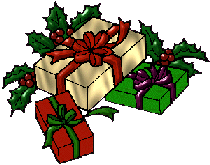 Once again we are appealing for any contributions that can be spared for our programmes.

If each HART supporter made a gift of just £10 we could raise enough funds to build the new facilities in Bharatpur and house the staff there for four months.

So, please put HART on your wish list this Christmas and forgo the bath salts……

To see how your generosity can benefit the dogs - please take a look here!
Thank you

Back to top
---
---
Very many thanks for your continued support
www.hartnepal.org


If you would like more information about our work, please visit our website or contact our Director, Mr Khageshwaar Sharma, at k.sharma@hartnepal.org

© Himalayan Animal Rescue Trust 2011