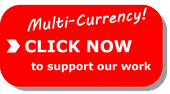 Dear HART Supporter,
The last couple of months have been a period of consolidation, completing the annual re-vaccination of Pokhara's dogs and maintaining the work at the clinic in Pokhara.

The tourist season has not yet begun and the country is calm and enjoying a respite from strikes, earthquakes and mud slides.

Please read further for a more detailed look at our recent activities...


Data and Analysis
HART has maintained a detailed record of all its interventions over the past years. The databases in use were designed in-house and have evolved as circumstances have changed and further information is needed.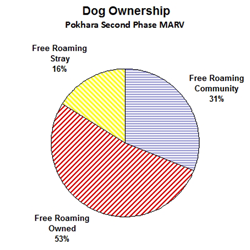 It is essential for any organisation that aims to have a significant long term effect in its field that as much as possible of its work is recorded consistently and thoroughly in order to be able to fairly evaluate the impact of its programmes.

We are therefore delighted that two highly qualified academics at the University of Nottingham in the UK have agreed to analyse and interpret all the data HART has gathered. Dr Jenny Stavisky and Dr Martin Downes are research fellows at the University of Nottingham, working at the Centre for Evidence Based Veterinary Medicine.

Their expertise will allow us properly evaluate our programmes and to make modifications and additions based on clear cut evidence and in accordance with their guidance.


Back to top
---
Work in Pokhara
The annual re-vaccination against rabies has been completed on schedule in all 18 wards of Pokhara.

We have also undertaken our Second Phase dog census and are very pleased to report that, through our spaying programme, the dog population of Pokhara is now under control and is stable.

The data indicates that 79% of the roaming dogs have been vaccinated against rabies.
Back to top
---
Community Dog Welfare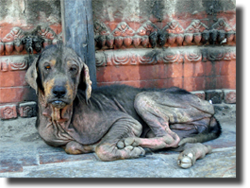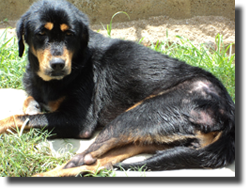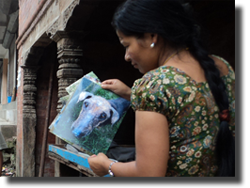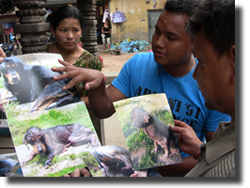 HART and Community Dog Welfare have held preliminary talks with the authorities of the Village Development Committee about holding a second tented clinic in Kopan, Kathmandu. Again this will focus on neutering, anti-rabies vaccination and de-worming for as many animals as the community can bring.

Community Dog Welfare is run by Kate and Doug Clendon from their house near the Kopan monastary. They have built kennels and provide permanent shelter when necessary to animals brought to them who are often regarded as beyond hope. In association with their vets, Dr Ghimire, Dr Gautam and Dr Sushmita Gautam of Kathmandu Veterinary Clinic, they treat, feed and nurse, sick and injured dogs for as long as it takes to restore them to health.

Recently a group of dogs suffering from TVT (sexually transmitted tumours) was brought to CDW's attention and they have been treating one or two animals at a time, working through the cluster to eradicate the disease. Many of the members of the local community are astonished at the transformation that a few weeks of medicine, food and care can produce and it is to be hoped that fewer dogs will be pushed out of their neighbourhoods to die elsewhere.

The accompanying pictures show the same dog before and after its treatment and also photographs being distributed to the local community demonstrating the progress of their animals.

The Clendons do inspirational work and HART is proud to be associated with them.

Back to top
---
Staff Movements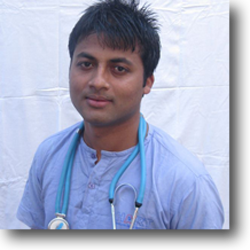 We are very happy to welcome Dr Subash Archarya as our newest second vet. He qualified at IAAS and this is his first professional position. He is particularly interested in researching zoonotic diseases and comes from Gaidakot, Chitwan, where his family is based.

Following the departure of Ramesh Bhatterai, Bandu Tiwari has now been promoted to head technician. We wish Ramesh every success in his new job and thank him for his years of service.

We are also happy to welcome Nem Shresthra as driver and dog handler. He helped us during the camps in Ilam and was so keen and effective that we offered him a job!

Back to top
---
---



Very many thanks for your continued support
www.hartnepal.org


If you would like more information about our work, please visit our website or contact our Director, Mr Khageshwaar Sharma, at k.sharma@hartnepal.org

© Himalayan Animal Rescue Trust 2012