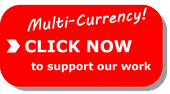 Dear HART Supporter,
Nepal is going through a very difficult political transitional period and amidst this unrest a catastrophic breach of the Seti River struck in the mountainous region of the Kaski district on the 5th of May. This swept away many inhabitants, tourists and animals.

As HART is based in Pokhara, which lies in the Kaski district, we thank you for your concern in contacting us to find about our safety and are happy to confirm that all is well.

Despite all obstacles please read about our recent activities...


Activities in Bharatpur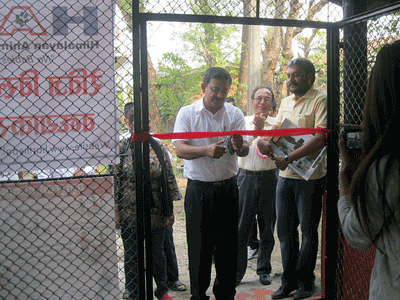 Our new kennel facility in Bharatpur was formally opened on 1st April by the Chief District Officer, Mr Ganesh Raj Karki.

The construction of an adjacent operating room is now nearing completion.

HART was invited by the local authorities to participate in a mobile outreach camp to Korak VDC, a region around 2 hours drive away, whose inhabitants struggle to access health and administrative services only available in Bharatpur. As this was yet another of the many days of national strikes a police escort was provided for the convoy.


Later in the month another mobile camp was conducted in Madi VDC. Madi is 3 hours drive on a kuccha (unsurfaced) road and lies on the extreme boundary of the Chitwan district.

These mini camps help spread the concept of animal welfare outside the urban area as well as providing relief to all those mustered up on the camp days and we will continue to provide our services to the District Authorities.

In addition to the notable events above World Veterinary Day was celebrated on 28th April in Chitwan with our full participation and engagement.


Back to top
---
Kopan - Second Anniversary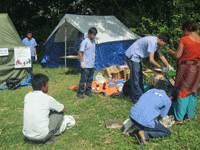 Despite being held back in Pokhara for three days by the strikes paralysing the country and thence delaying the start of the clinic, HART and Community Dog Welfare (CDW) carried out the second Catch-Neuter-Vaccinate-Return camp in Kopan on the outskirts of Kathmandu.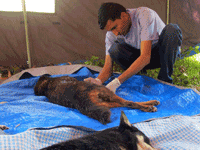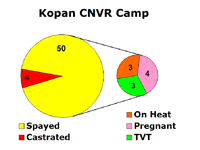 It was a four day camp. CDW, aided by Linda Sherpa, had organised a deworming programme in advance of the camp and had prepared the community for the event with visits, canvassing and leaflets.

The local VDC have been supportive, as have the Kathmandu Veterinary Clinic, and many visitors were welcomed over the period.

We spayed 50 dogs and castrated four. Of the 50 female dogs, three were on heat and four were in the early stages of pregnancy. A further three were suffering from transmissible venereal tumour (TVT), a form of cancer, and have been treated with chemotherapy.

HART vet, Dr Subash Archarya and volunteer vet nurse, Natasha Schneider, carried out post operative monitoring and all dogs are reported well.



Back to top
---
New Collaboration
A field clinic and neutering camp was sponsored in the outlying village of Harisiddhi by Street Dogs Of Nepal.

This community is particularly in need of care for its animals and many are suffering for want of veterinary care.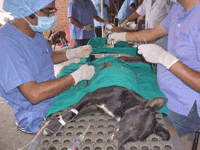 The event was organised by Animal Nepal who carried out the pre-camp administration and then followed up on the post operative care whilst HART provided vets, staff, tents and its experience of CNVR.

We spayed 58 dogs during the three day camp. Two dogs were taken back to Animal Nepal's kennels in Chobar for longer term treatment and it is expected that they will be well enough for return in a few weeks.

Back to top
---
---



Very many thanks for your continued support
www.hartnepal.org


If you would like more information about our work, please visit our website or contact our Director, Mr Khageshwaar Sharma, at k.sharma@hartnepal.org

© Himalayan Animal Rescue Trust 2012