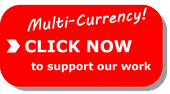 Dear HART Supporter,
The major festivals of Dashain and Diwali take place in October and November, as well as it being the peak trekking season and the most popular time for volunteers to visit.

This year these months were beautifully clear and sunny with stunnning views of the Himalayas from virtually everywhere in the country.

Please continue for an update on events during this extremely busy period.


There is clearly enormous demand for these clinics and they will be repeated and expanded as resources permit.
HART's senior vet, Dr Phuyal, has moved on into government service and his excellent surgical skills will be greatly missed. However, he will continue to be available as a consultant to HART so the connection will not be broken.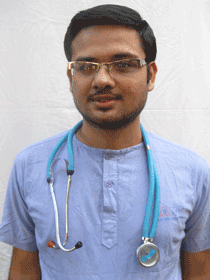 We have been joined by Dr Narayan Archarya (pictured right), a recently qualified vet from IAAS, who is fitting extremely well into the team, despite arriving at a time of maximum activity.

As there is very little scope for private practice for vets in Nepal (there are only a handful of practices in Kathmandu), most of the 60 or so vets qualifying annually tend to take up government posts. These posts offer security and are naturally an attractive career proposition.

Although HART is always sorry to see its vets move on, this progression means that over the years there will be a network of government vets well versed in the practices and ethos developed at HART.

Back to top
---
Survival in Pokhara
Two difficult cases were brought into the Pokhara clinic in November.

One was a dog which had inadvertently eaten poison and which seemed beyond help.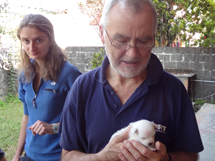 The other was a very small white puppy which had fallen off a first floor balcony. Both dogs had devoted owners who did their utmost for their animals. The puppy had been bought and taken from its mother several weeks earlier that it should and then had been overdosed with antibiotics by a local pharmacy after its fall.

Despite all the odds, HART staff with the assistance of volunteer vets, Dr Russell Lyon and Dr Frances Cole, were able to save these animals.


Back to top
---
IAAS collaboration formalised
During a visit to the IAAS vet college by HART founders, B.Webb and J.Pearson, a formal Memorandum of Understanding between IAAS and HART was signed.

The photo shows the Dean of IAAS, Professor Narendra Chaudhary, and Khageshwaar Sharma signing the MOU.




Back to top
---
Joint Clinic with Animal Nepal
Following the joint clinic earlier in the year, HART and fellow animal welfare organisation, Animal Nepal, ran a neutering/vaccination and first aid clinic in Godavari.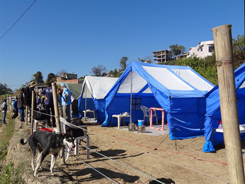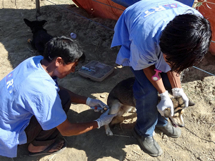 This is a beautiful area about 10 km south of Kathmandu surrounded by untouched forest.

A total of 118 dogs were neutered - 94 females spayed and 24 males castrated.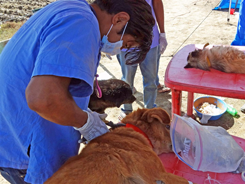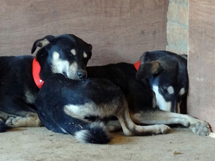 Back to top
---
Time to spare?

We are actively seeking anyone who can help us with fund-raising. Any suggestions and contributions on this topic will be gratefully received.

Also,as Christmas approaches, please consider a gift to HART on behalf of an animal lover. This will not need any storage space but will provide the ongoing satisfaction of achieving real change for many animals in Nepal. Specific pictures of animals helped can be made available if required.


Back to top
---
Thanks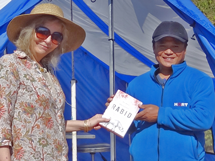 Olivia Stuart, a HART supporter from the USA, has very kindly donated a new copy of the book 'Rabid: A Cultural History of the World's Most Diabolical Virus'.

HART founder, Barbara Webb, is pictured here presenting it to Chandra Rai, HART's Community Liaison Officer.

This interesting book will help our staff understand the long history of the fight against rabies.

Thanks Olivia!


Back to top
---
---



Very many thanks for your continued support
www.hartnepal.org


If you would like more information about our work, please visit our website or contact our Director, Mr Khageshwaar Sharma, at k.sharma@hartnepal.org

© Himalayan Animal Rescue Trust 2012