Dear HART Supporter,
The rains have started early in Nepal and everywhere is hot and humid.

The climbing season is underway with the usual mixture of triumph and tragedy and the end of the trekking period fast approaches.

Please continue reading for an update on latest events...


3rd Annual Camp with CDW
Once again Community Dog Welfare held their annual camp in the Kopan area of Kathmandu.

This was extended to include another ward in the area, Ward 2, so that a total of 5 wards were offered access to the programme.

It was held a few weeks earlier which meant that both operating and recovery conditions were slightly cooler. Surgery was performed by Animal Nepal vets, as HART's vets were committed with other assignments in Bharatpur.

Comparative results of the last three years of CDW/HART collaboration are seen below right: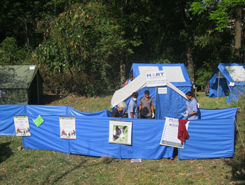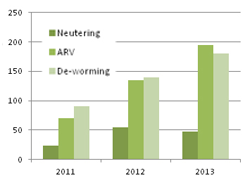 A further refinement is the use of barriers to channel the animals through the process and to avoid a press of spectators, owners and "helpers" crowding close to the operating and recovery tents. Photo above left.
Back to top
---
Nick of Time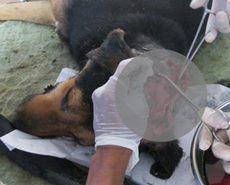 We frequently encounter animals in need of treatment as we carry out our programmes in the city streets.

We do our best to find community caretakers for such animals but sometimes this is not possible.

In Bharatpur, our supporter Mr Hit Bahadur KC, came across an animal in great need and spent two days tracking it down after it eluded his attempts to capture it. A head wound had become enlarged and infected, and maggots were clearly visible. The dog was running from one area to another in pain and distress and was being continually chased by shopkeepers who found the smell repugnant. The photo above has been altered to conceal the extent ofthe damage from view.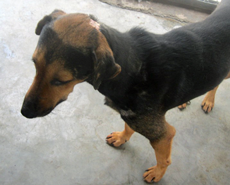 Mr KC summoned HART's expert catchers to help and they managed to rescue the animal in front of a crowd of onlookers.

The dog, called Nick, has spent three weeks healing in the kennels and is now looking fine.

He will be returned to the streets from where he came and monitored from time to time as he reintegrates into the community, living proof that care can cure some of the most appalling wounds.


Back to top
---
A Pilot Neutering Camp in Dolakha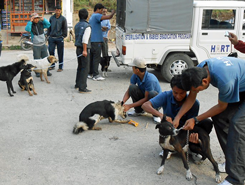 HART was approached by Dr R C Sapkota from DLSO Dolakha to hold a neutering camp in Bhimeshwor Municipality in Charikot - Dolakha in partnership with the Municipality and DLSO.

There have been sporadic rabies outbreaks in the district and Dr Sapkota hoped that, through this camp, we would be able to educate people about the importance of anti-rabies vaccination and sterilization and also end the routine use of strychnine.

Dolakha is in central Nepal, around 350km from our Pokhara base, and is a road head town.

54 animals were neutered over 3 days though many, many, more were available if time had allowed. A press meeting was arranged in advance of the camp and coverage was given by the local FM station, plus the Sagarmatha and Avenues TV stations.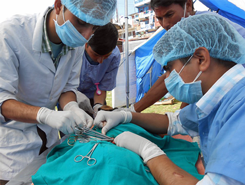 HART welcomed two trainee vet technicians who were doing their internships at Dolakha DLSO. This was an excellent opportunity to impart our knowledge and skills to two keen learners. HART has arranged to further train one of the interns to boost Dolakha's animal competencies on his return.

The Bhimeshwor Municipality provided around £250 towards the cost of veterinary supplies and the DLSO provided accommodation, rabies vaccination and 20 litres fuel for transport.

As in our many camps elsewhere in Nepal, there is a clear public desire for healthy, controlled community animals, plus many keen and forward thinking officials who want to progress beyond poisoning and cruelty.

May we thank the supporters who donated towards this satellite programme.
Back to top
---
Bharatpur Census
2013 sees our third annual dog census under way in Bharatpur.

Whilst not quite complete, with one Ward yet to be counted, initial analysis of our data indicates that the percentage of female dogs which have been spayed has risen from 29% in 2012 to 48% this year.

Our staff are currently engaged in vaccinating the free roaming dog population against rabies for the second year. The target is to vaccinate over 80% of the population.We also vaccinate any cats, monkeys or other animals which are brought to us on vaccination days.

We were very happy to see that the percentage of "Free Roaming Stray" dogs had once again reduced - down to 28% from the previous 34% in 2012.

So, lots of work still to do, but moving in the right direction.
Back to top
---
HART in Veterinary Times Magazine
Dr Russell Lyon, Vet, well known author and UK based HART Technical Advisor, has recently published an article in Veterinary Times magazine about his experiences of tented spaying camps during his most recent visit to Nepal.

This article was first published in Veterinary Times magazine in April 2013 and, with their kind permission, you can read a PDF copy here.
Back to top
---
Change of Vet staff
Drs Archarya have moved on to pastures new and Dr Yugal Raj Bindari joined HART in early May.

Dr Bindari graduated in 2011 from HICAST, Bhaktapur. He completed his internship on "Prevalence of mange infestation in canines".

He has previously worked in a Kathmandu vet clinic and at the Mount Everest Kennel Club.

Currently, he is pursuing his Masters on Theriogenology (Gynecology and Obstetrics).



Back to top
---
---



Very many thanks for your continued support
www.hartnepal.org


If you would like more information about our work, please visit our website or contact our Director, Mr Khageshwaar Sharma, at k.sharma@hartnepal.org