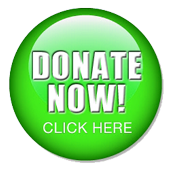 Dear HART Supporter,
Political jostling continues after the successful elections, the weather is cool and calm, and a nationwide polio immunisation campaign has reached over 4 million children.

HART's activities have continued in both bases and have included two camps.

This newsletter launches an appeal to all readers and supporters to help raise the £10,000 we need to build clinical facilities in Pokhara.

Please continue reading for an update on latest events...


News from Pokhara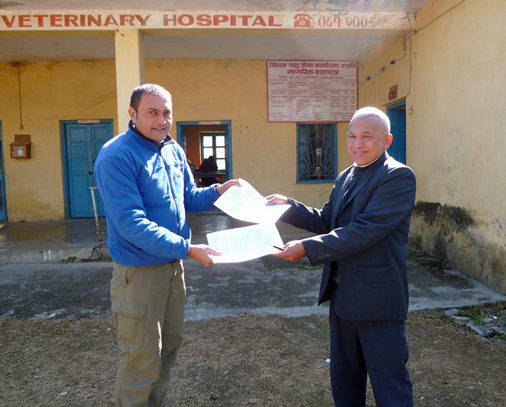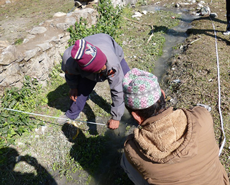 HART has now signed an MOU with the District Livestock Services Office (DLSO) in Pokhara.

This gives us the opportunity to build an operating theatre, clinic, stores and office on spare land within the DLSO compound.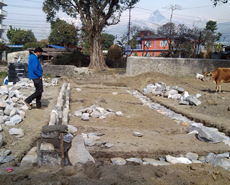 The close proximity of the organisations will enable us to work jointly on animal welfare issues and to exchange information and ideas.

The estimated construction costs are almost £10,000 and any contributions will be most gratefully received.

Click HERE to contribute.

A few kennels will be included in the build which will make long term nursing of sick animals much more convenient than at present.

The clinic has been assisted by visiting vets. Dr Minia Coiacetto from Australia spent five days with us and currently Dr Elenor Walsh from the UK is helping the HART staff.

You may remember reading about Mr Grumpy in our November newsletter. He had suffered dreadful injuries to the left side of his face and had lost his left eye. Following two surgical operations and some 10 weeks of nursing he's made an amazing recovery as can be seen in the photo [bottom left] below.

Now he's Mr Happy!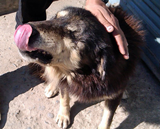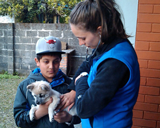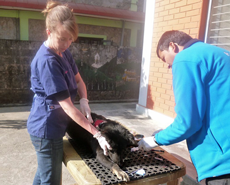 Back to top
---
News from Bharatpur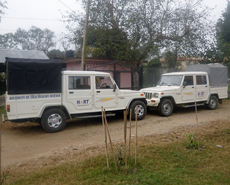 As mentioned in the previous Newsletter, generous grants from the Marchig Animal Welfare Trust and from LUSH Charity Pot were offered to enable the purchase of a second vehicle.

This has now been delivered and this will enable the neutering work in the Bharatpur to proceed much more rapidly.
Back to top
---
Collaboration with Agriculture & Forestry University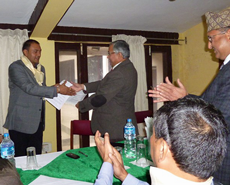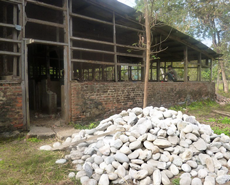 The MOU with the Agriculture & Forestry University was renewed in January following its change of name.


Pictured here, HART Director, Khageshwaar Sharma, exchanges documents with Prof Dhakal, Dean of AFU, in the presence of the AFU Vice Chancellor, Registrar and other officials.


As part of the MOU, HART is working with the AFU to refurbish a delapidated building and build seven kennels in the area of the veterinary teaching block.


These will house animals treated and neutered as part of the small animal courses provided by WVS and the ITC.
Back to top
---
Dharan Camp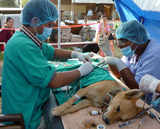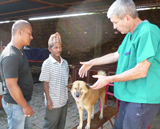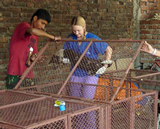 In early December 2013 a pilot CNVR programme was held in Dharan, a city of some 120,000 people in the far east of Nepal and a difficult 12 hour drive from our Bharatpur base.

Our work was hugely boosted by the assistance of Dr Surendra Basyal from Animal Nepal, Dr Steve Lewis from the UK and vet nurses Kate Guscott and Alicia Gatti from Australia.

Local organiser and vet technician, Sankhu Shrestha, provided food and accommodation for all the crew. Sankhu, Chandrakala Didi and the local Vet Tech Association co-ordinated activities and provided publicity and local knowledge.

A truly international, multi-party effort!

An amazing 123 female and 18 male dogs were sterilised and, of course, all were vaccinated against rabies.

The Vet Tech Association kindly provided the post-op monitoring and, we're pleased to say, that went well.

It's our intention to conduct a repeat camp late in 2014.



Back to top
---
Work with Animal Nepal


Immediately after the Dharan camp, the HART staff joined Animal Nepal at their Chobar shelter on the outskirts of Kathmandu.

By working together, and with the invaluable help of Dr Steve Lewis, it was possible to neuter 116 animals, of which 107 were female and 9 were male.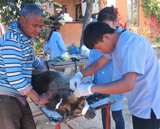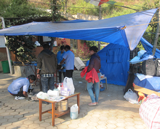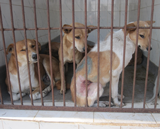 Photos courtesy of Animal Nepal


Back to top
---
---



Very many thanks for your continued support
www.hartnepal.org


If you would like more information about our work, please visit our website or contact our Director, Mr Khageshwaar Sharma, at k.sharma@hartnepal.org