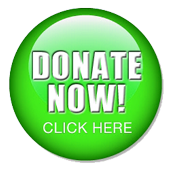 Dear HART Supporter,
The monsoon brought some disastrous floods in western Nepal during August with around 160 people being killed and many more made homeless.

World Rabies Day was marked on 28th Sept during the rapid response camp in Bara and, in October, World Animal Day will be celebrated by the official opening of the Pokhara clinic.

HART's various programmes have made this an exceptionally busy two months with no let-up in sight as the major festivals of Dashain and Tihar approach


News from Pokhara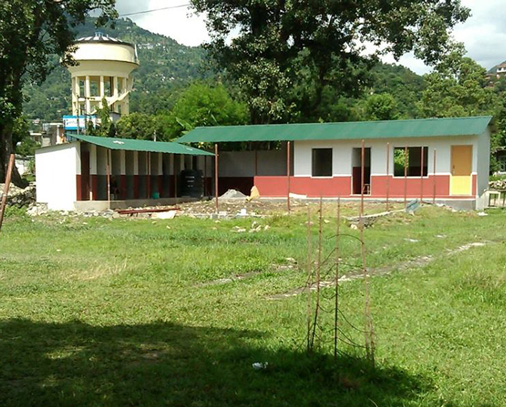 Virtually there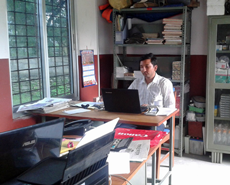 Our new clinic and kennels facility in the compound of the District Livestock Services Office (DLSO) and District Veterinary Hospital is virtually complete and the move is underway.

The different situation will mean changes for staff who will no longer live on HART's premises but in nearby lodgings instead.

A formal opening and inauguration ceremony will be held with local media, our new colleagues at the DLSO and animal loving members of the public.

The community of Pokhara will be able to access help and advice for their livestock and their companion animals at the same centre and we plan to exchange information, expertise and even facilities with the DLSO.

We are most grateful for all the help given to complete the build by volunteers from GVI our special thanks go to Lok Gurung, James Barnes and Lucy Vinestock.


-oOo-


Volunteers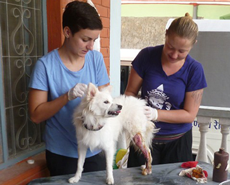 Vet nurse Lucy Taylor has spent many weeks with HART and expertly assisted many animals during her stay. Her long term presence in Pokhara has been a great boost for HART and we are all most grateful for her help.

Additionally, Martine Lagatierra-Wellington, a final year vet student, gave HART two weeks of her time before she continued her journey round Asia and GVI volunteer, Corie Owen, a second year student majoring in veterinary science also spent two weeks helping HART.

Thank you all.


Back to top

---
The September Lectures at the Vet School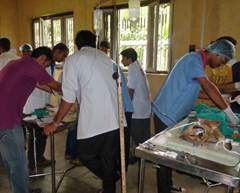 Dr Maiju Tamminen returned to Nepal to deliver the annual week of small animal lectures to the vet students at Agriculture & Forestry University (AFU). These are brought about by a collaborative effort between HART, WVS (Worldwide Veterinary Service, who run the International Training Centre in Ooty, India) and the AFU.

The kennels provided by HART to AFU are now in place and therefore a number of neutering operations can be carried out simultaneously using these post-op facilities. Under the supervision of Dr Maiju and HART's Dr Sanjiv over 50 animals were neutered.

The ITC and AFU have a further programme in place whereby batches of 10 students travel to Ooty to gain further small animal skills at the training centre.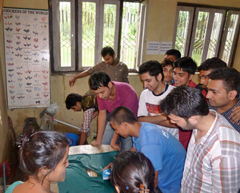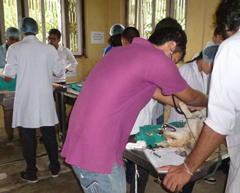 Back to top
---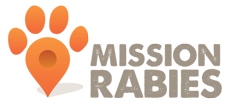 Mission Rabies
Following a meeting with Luke Gamble and the Mission Rabies team we expect that the programme will be extending to Nepal next year and will have its initial base in Pokhara. We look forward to a successful and effective collaboration.



Back to top
---
Dash to Bara District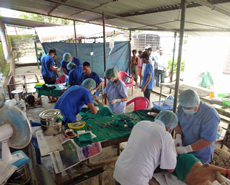 During the last week of September an outreach camp was urgently pulled together under the AWNN banner to respond to reports of a rabies outbreak in a village in the Bara district of southern Nepal.

Only a week ago, over 20 dogs were beaten to death in another area, Rolpa, and so the joint animal welfare groups felt immediate action was necessary.

HART and Animal Nepal spayed and vaccinated 71 bitches and many more were vaccinated using funds provided for the programme by HSI.

It is in this town, Bariyarpur, that the Gadhimai takes place, a festival notorious for thousands of animal sacrifices. See here for more information about the campaign against animal sacrifice at the Gadhimai.

Over one third of the spayed bitches were pregnant and around 150 births were prevented - making the town safer for temple goers and avoiding the suffering of many pups.



Back to top
---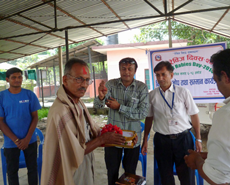 Bharatpur progress
In August the Mass Anti-Rabies Vaccination was completed in all 14 wards of the town with over 1350 dogs vaccinated. By vaccinating 70% or more of the free roaming dogs, the population as a whole becomes far more resilient against rabies.

A small ceremony was held at the clinic in Bharatpur to mark the indefatigable work for animals carried out by Hit Lal Bahadur KC.

He has worked with HART since our arrival in the town and is a vital part of the operation.

As he will not accept any reward for his work, we were pleased to make this public acknowledgement of his effort and integrity.



Back to top
---
JustTextGiving
vodafone help
JustGiving and Vodafone have kindly provided us with a JustTextGiving facility.

This enables you to make a text message donation of £2, £5 or £10 to HART, directly from your mobile phone.

Just send a text to 70070 saying HART01 plus your chosen amount of £2, £5 or £10 eg HART01 £5

All text donations are free, and won't come out of any inclusive texts you have as part of your price plan - even if you're not with Vodafone. You just pay the cost of your donation.
-oOo-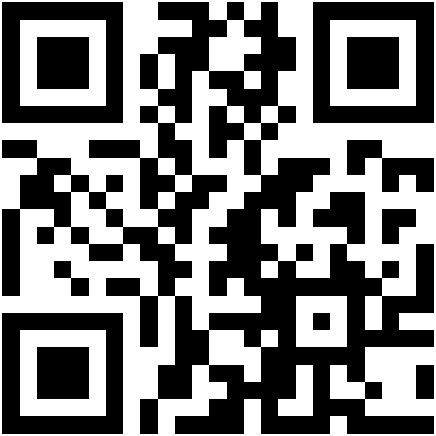 Or, if you have a QR reader, simply scan this QR code to prepare your phone for sending £5 to HART.

A little goes a long way in Nepal. For example, your £5 would provide anti-rabies vaccines to protect more than 10 dogs for a whole year.


Please help if you can.


Back to top
---
---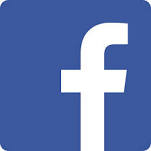 Very many thanks for your continued support
www.hartnepal.org


If you would like more information about our work, please visit our website or contact our Director, Mr Khageshwaar Sharma, at k.sharma@hartnepal.org