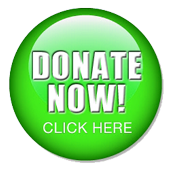 Dear HART Supporter,
Political problems continued to dominate the headlines in Nepal as the effort to declare the Constitution on 22nd January continued.

Despite the difficulties caused by political strikes the last two months have been productive as HART settles into its new premises within the DLSO compound in Pokhara.


HART's Satellite Neutering Camps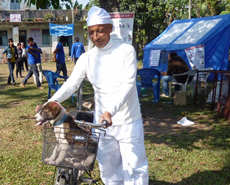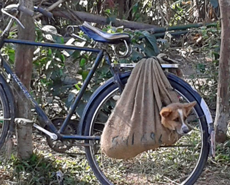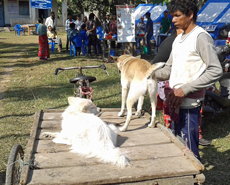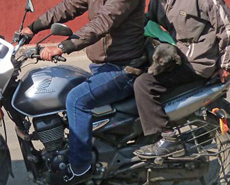 Dogs on wheels!
The staff and vehicles set off for the 520km, 15 hour, drive to Dharan in the east of Nepal on 23rd December. After a series of continuous neutering programmes in Dharan, Illam and Sani Arjun the crew returned to its base on 7th January.

The satellite neutering camps were made possible because of support received from the Marchig Animal Welfare Trust and Help Animals International and we would like to extend our sincere thanks to them.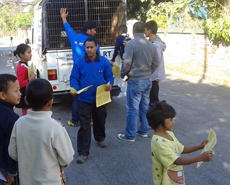 Dharan - The first camp was held in Dharan where the staff were greeted on arrival by an earthquake which registered 5.0 on the Richter Scale.

This was the second annual camp in Dharan conducted in collaboration with Dharan Municipality and Pets Home.

As in the previous year, Shanku Shrestha and Chandrakala Didi were vital in organising and supporting the work. These two local people will form an NGO to continue street dog welfare work throughout the year.

We sterilised and vaccinated against rabies 113 dogs (111 spay, two castration) and spayed one female cat. Thirty-six dogs were brought to the venue for anti-rabies vaccination and three dogs were rescued during the course of catching and return of the dogs to the community.

Three dogs were also treated for transmissible venereal tumour (TVT).

Pyometra, a disease of the womb, was found in 21 dogs. These dogs were free-roaming, but owned, and the pyometra may be caused by the owners giving them injections of the human contraceptive Depo Provera.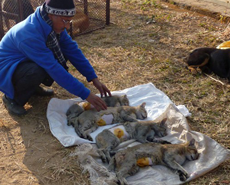 The local radio station, Vijaypur 98.8 FM, kindly provided live talk opportunities over two days which further helped establish the principles behind HART's work and allowed us to broadcast the advice not to use Depo Provera as a dog contraceptive.

Illam - The team then moved on to the town of Illam where the camp was organised by the DLSO once again.

This was our fourth annual visit and we were delighted to find a healthy looking dog population, very many of which had ear notches, indicating that they had already been neutered on one of our previous visits.

Consequently, only 47 dogs and 9 cats were found to neuter and a further 19 were vaccinated against rabies. More than 70% of the dogs were brought to the camp, thus demonstrating the community's commitment to their animals.

Interestingly, seven 'Shikari' dogs were neutered - they are reportedly masters in killing porcupine!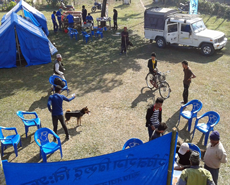 Sani Arjun - The third venue was Sani Arjun, recently declared as a Municipality.

This was a pilot programme in the area and was requested by Mr Padam Rai. He is in charge of the Sani Arjun Livestock Service Centre, having recently transferred to Sani Arjan from Illam.

Mr Rai had seen the success of HART's programme in Illam and was very keen to pilot the work in his new area. Following recent rabies outbreaks he, like the Illam DLSO, wanted to avoid a cull of the dogs.

Once again the local radio station. Kachenjunga FM, helped with publicity.

The Chief Executive of the Sani Arjun Municipality, Mr Rudra Prasad Neupane, opened the camp and HART is delighted to have acquired further allies in the process of making Nepal an animal-friendly country.

Sixty-six dogs were sterilised and vaccinated (51 spay and 15 castration) and a further 142 dogs were vaccinated against rabies.

Danabari - Danabari was our final camp.

Danabari is a village that lies within the Illam district, an hour's drive from Sani Arjun.

Fifty-six dogs were neutered and vaccinated and a further 51 vaccinated against rabies.

Additionally, nine vet technicians were trained during the camp.

Dharan Sub Metropolitan has announced that they will allocate a budget for a neutering programme for the next year. They are concerned about rabies and plan to conduct an anti-rabies vaccination programme throughout the city.



Back to top
---
News from Pokhara
Recent case histories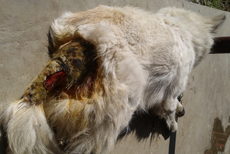 Many animals arrive at our clinic every week but here are a couple of special cases:

A free-roaming dog who lives around a local temple was brought in by a lady concerned that she could not repeatedly bring it in for treatment, particularly in view of the political strikes that are expected.

Fortunately for this animal, we will be able to feed and nurse him in our kennels until he can resume his life at the temple.

We hope that this lady and her friends will bring any future sick animals she is aware of to us before their condition deteriorates.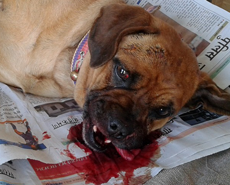 A dog, Bruno, owned by police Sub Inspector Malla, met with a traffic accident on 19th January. Inspector Malla brought Bruno to the DLSO, who immediately referred him across to HART after first aid.

HART vet, Dr Surendra, diagnosed a complex fracture of the lower palate, which is beyond our operating capacity. Advanced Pet Clinic in Kathmandu (some 200 km away) have the ability to perform this surgery and a trainee vet technician volunteered to make the journey with Bruno.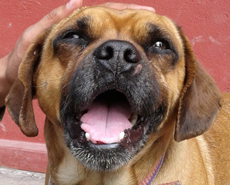 Dr B C Jha performed the operation the next day and Bruno was escorted back to Pokhara where he will have to remain wired for a month, but is recovering well.

Inspector Malla, who stayed with Bruno the whole day until his journey to Kathmandu, was relieved and grateful to have benefited from the DLSO, HART, Advanced Pet Clinic collaboration.


Census complete


The 2014 census was completed in all 18 wards using the phone app we developed for the purpose.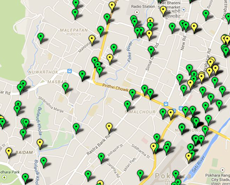 The use of this tool has saved significant amounts of staff time and a further phone app will be used for the annual anti-rabies vaccination programme.

The census figures show a more or less stable dog population.

Male dogs continue to represent around 70% of the total population.

Nearly 70% of the females seen had already been spayed.
Back to top
---
HART and the Hong Kong 100 km Race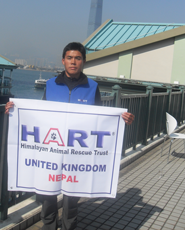 HART's special advisor in Pokhara is Ramesh Bhattachan who runs Nepal Mountain Trail Ultra Running.

Ramesh is one of the key people in Nepal developing the talents of the country's extremely talented long-distance runners.

He took Suman Kulung and Arjun Kulung to participate in the 5th Hong Kong 100 km race in January and, while there, took every opportunity to promote the work of HART.
Back to top
---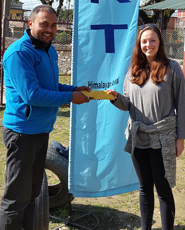 Global Vision International
GVI, who have given HART great help through their volunteer programme over the past year, have again proved wonderful friends.

They have raised funds to re-equip the operating room at the Pokhara clinic and we will be able to afford an operating table designed for the job.

This will make the lives of the vets and vet techs much easier and reduce the strain on their backs.



Back to top
---
JustTextGiving
vodafone help
JustGiving and Vodafone have kindly provided us with a JustTextGiving facility.

This enables you to make a text message donation of £2, £5 or £10 to HART, directly from your mobile phone.

Just send a text to 70070 saying HART01 plus your chosen amount of £2, £5 or £10 eg HART01 £5

All text donations are free, and won't come out of any inclusive texts you have as part of your price plan - even if you're not with Vodafone. You just pay the cost of your donation.


-oOo-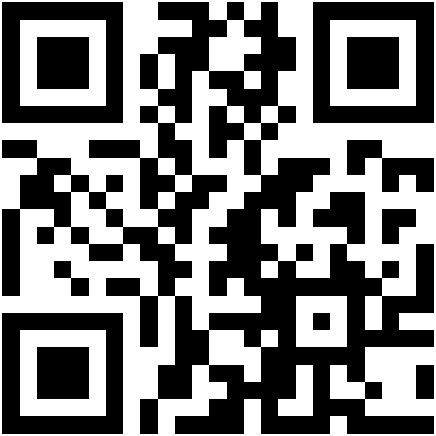 Or, if you have a QR reader, simply scan this QR code to prepare your phone for sending £5 to HART.

A little goes a long way in Nepal. For example, your £5 would provide anti-rabies vaccines to protect more than 10 dogs for a whole year.


Please help if you can.


Back to top
---
---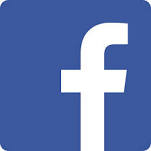 Very many thanks for your continued support
www.hartnepal.org


If you would like more information about our work, please visit our website or contact our Director, Mr Khageshwaar Sharma, at k.sharma@hartnepal.org