Dear HART Supporter,
The long awaited constitution was promulgated on September 20th.

Some groups have protested and there has been political disruption in certain areas throughout the month.

The monsoon is winding down but earthquake aftershocks still continue.

Due to the political situation some planned events have had to be postponed. The scarcity of fuel, cooking-gas cylinders, medical supplies and other commodities is making life more difficult and beginning to have an impact on our day to day functioning.


News from Pokhara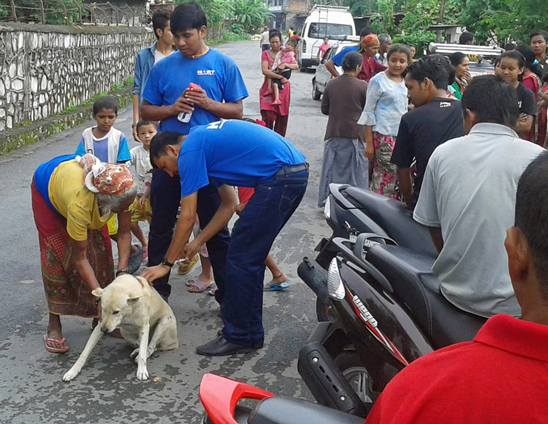 All 18 wards of Pokhara have now been vaccinated and the process of neutering any unspayed females found during the vaccination drive continues.

The clinic is open to provide veterinary services for small animals both with and without owners.

The planned return to hold annual outreach clinics in the east of Nepal, (Illam, Dharan, Bhadrapur, Birtamod), has had to be put on hold as these areas are undergoing political unrest.

A volunteer vet from Australia, Dr Bronwen Evan, arrived in mid September. Her trip was made possible by concerned and supportive friends in Australia whose expertise and assistance is much appreciated.


Back to top

---
Re-visit Sindupalchowk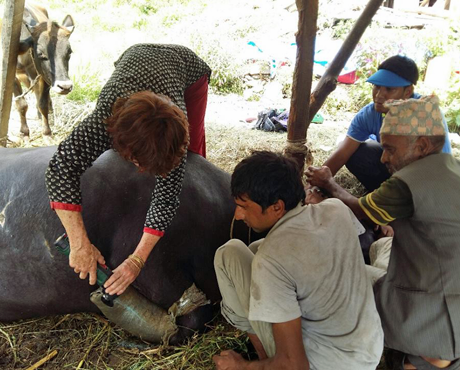 A further visit was made to Sindupalchowk to follow up on a couple of cases treated post-earthquake and to offer further advice and medication.

In general the animals have made good progress though it is likely that a buffalo belonging to Damodar will never be able to walk normally.

Further details of this visit could be found on our facebook page.
Back to top
---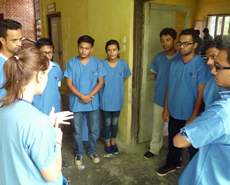 Lectures at the AFU
Dr Maiju Tamminen and Dr Vinay Bhagat from the ITC, together with Dr Sanjiv Pandit and Dr Surendra Kanu from HART, plus five staff from the ITC and HART conducted an intensive surgery course for seventh semester vet students at the Agriculture and Forestry University.

An initial obstacle had to be overcome when Nepali customs confiscated the specialist supplies brought in from India by the ITC team.

Intervention from senior AFU personnel finally secured the release of the medications.

During the course, 82 dogs were neutered and vaccinated against rabies.



Back to top
---
News from Bharatpur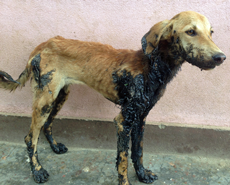 Lute, as she arrived at HART covered with coal tar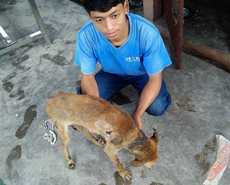 Lute, after starting her treatment
As in Pokhara, the vaccination programme is complete and any unspayed females found are being spayed.

One animal, a dog the staff named Lute, required a longer stay in the kennels.

Dr Sanjiv explained:


In August we caught a street dog which was severely affected with coal tar.

Coal tar is also used for medicine on the skin to treat itching, scalding, psoriasis, and dermatitis but it is highly sensitive to sunlight, and we already know that skin treated with topical coal tar preparations should be protected from sunlight.

That's why we treated the dog as soon as possible with turpentine oil (which is used in painting) on the whole body where the skin and hair was massively affected.

We also used Brivit (vitamins A+D) to reduce skin problems caused by turpentine oil, and meloxicam injections to relieve the pain, because Lute's temperature was 104℉.

Finally, after 12 days of treatment and care in HART, the dog recovered and all the vital signs returned to normal parameters.

Thus we released the dog on 13th day in her own territory.
Lute has been seen since in her area of Narayangarh enjoying her new lease of life.
Back to top
---
World Animal Day and World Rabies Day
The camps in the east had been earmarked as part of World Rabies Day and World Animal Day celebrations.

Because of their postponement, other events were quickly organised in conjunction with the DLSO in Pokhara and Bharatpur:
Pokhara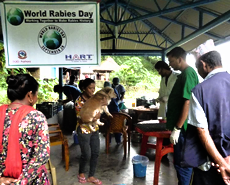 A neutering cum vaccination camp was conducted in a fishing community beside Begnas Lake in Lekhnath Municipality, south east of Pokhara.

A total of 59 dogs and cats were neutered & vaccinated and a further 39 dogs vaccinated only. Interestingly, more cats than dogs were brought in for neutering.

A commemorative rally was also organized where students from two schools (Sukraraj Higher Secondary School, Pumdi Bumdi and Shree Barah Higher Secondary, Dhital) and staff from DLSO, National Breeding Centre, Regional Veterinary Laboratory and HART all participated.
Bharatpur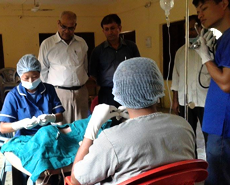 A neutering camp cum vaccination program was organized in Khaireni in Chitwan. 26 female dogs were spayed.

HART participated at the rally organised by DLSO.

A vaccination camp in Bijaynagar organised jointly with Rotract Club of Narayangarh and International Veterinary Student Association, Rampur, where 61 dogs were vaccinated.
A couple of camps to specifically mark World Animal Day on 4th October are now being planned around the shortage of fuel and medical supplies.
Back to top
---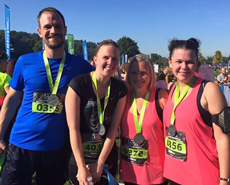 Fund Raisers
On a beautiful September day, Matt and Emma Breed, together with friends Cath Downing and Beth Du-Prat, completed the Reigate 10k Run to raise funds for HART.

We very much appreciate them taking the time to do this in the midst of hectic lives.




Back to top
---
JustTextGiving
vodafone help
JustGiving and Vodafone have kindly provided us with a JustTextGiving facility.

This enables you to make a text message donation of £2, £5 or £10 to HART, directly from your mobile phone.

Just send a text to 70070 saying HART01 plus your chosen amount of £2, £5 or £10 eg HART01 £5

All text donations are free, and won't come out of any inclusive texts you have as part of your price plan - even if you're not with Vodafone. You just pay the cost of your donation.


-oOo-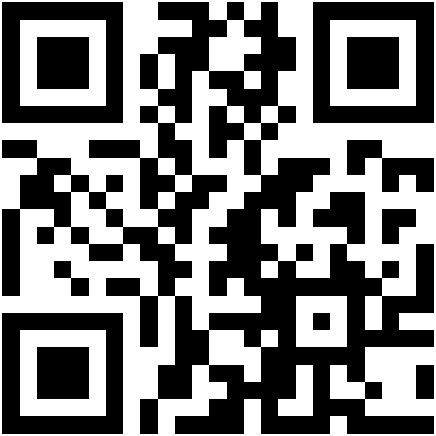 Or, if you have a QR reader, simply scan this QR code to prepare your phone for sending £5 to HART.

A little goes a long way in Nepal. For example, your £5 would provide anti-rabies vaccines to protect more than 10 dogs for a whole year.


Please help if you can.


Back to top
---
---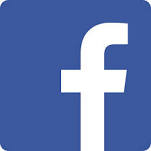 Very many thanks for your continued support
www.hartnepal.org


If you would like more information about our work, please visit our website or contact our Director, Mr Khageshwaar Sharma, at k.sharma@hartnepal.org