Dear HART Supporter,
The past two months have seen a huge change in Nepal.

The blockade was lifted on Feb 8th and gradually trading, schools and factories are returning to normal.

The political disturbances in the east have settled and HART has been able to carry out a packed schedule of deferred outreach clinics.


Pashupatinath Project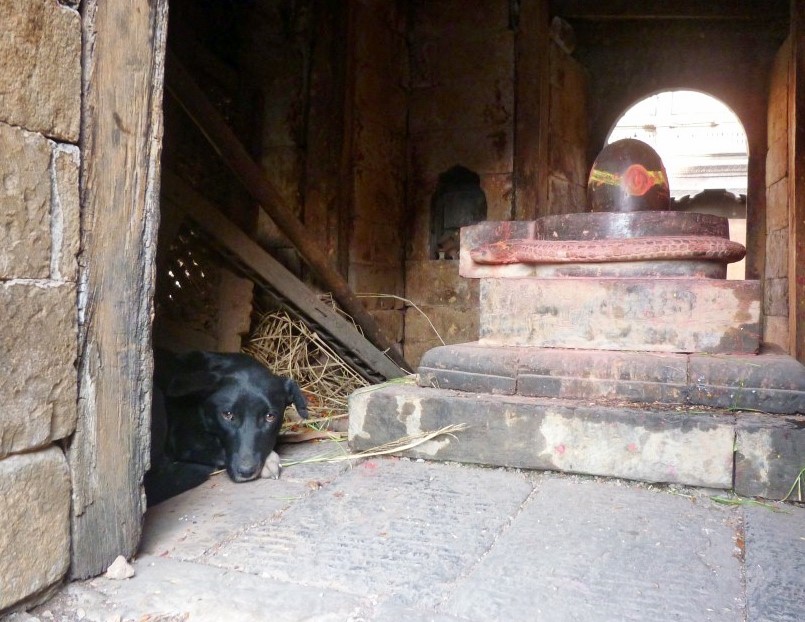 In association with other NGO's and the Pashupatinath Development Trust (PADT) a clinic was held at this world famous temple complex.

Almost all of the female dogs were fertile, several had transmissible venereal tumours, and 47% had Pyometra - probably as a result of injections of the human contraceptive, Depo Provera.

A neutering and treatment clinic was arranged from 20-24 February 2016.

Contributing organisations include NAWRC, CDW, AN, SPCA, STAN, Advance Pet Clinic and HART.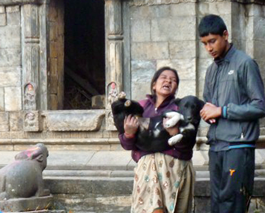 The neutering camp was held in the grounds of the Old People's Home.

Dogs requiring more intensive treatment are currently being nursed in the kennels of CDW and Paradise Boarding Kennels and will be returned to their areas when healthy.

Over the period of 5 days, 142 dogs (136 female and 6 male) and one cat were sterilised, vaccinated against rabies, treated for any existing health problems and returned to their areas.

The objective of the camp was to improve the lives of the free roaming dogs within the complex of Pashupatinath, the Lord of Animals.

The major Hindu festival, Mahashivaratri, falls on 7th of March. During this festival, thousands of pilgrims (who may not all be animal lovers) come to pay homage to Lord Pashupatinath and it was important that the relief work was done in advance of the influx of visitors. Unhealthy dogs are easy targets for mistreatment.

Longer term aims are to maintain a healthy stable dog population with the assistance of the PADT and to demonstrate the huge value of collaborative working.

The impact of the program carried out will be evaluated in May so that further work can be planned with the aim of ensuring that animals and pilgrims visiting the temple can enjoy a harmonious existence within the complex of Pashupatinath.


Back to top

---
News from Pokhara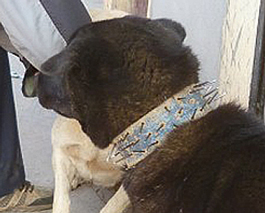 The work in the new ward of Lamchaur was continued in early February.

Once again there are fewer dogs than expected with many owners preferring that their animals are not neutered.

Attacks by leopards are greatly feared in this area and the owners believe their dogs will offer better guarding if left fertile. Note the nail-studded collar fitted for the protection of the dog shown here.

The terrain and attitudes are more rural than urban and it appears that this area is losing some of its people as they move into city centres.
Back to top
---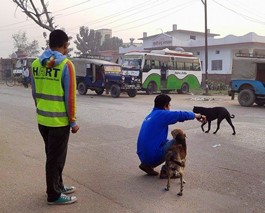 News from Bharatpur
An outreach camp was held in Nawalparasi by the Bharatpur team shortly after the camp in Pashupatinath on 29th Feb and 1st March.

The Nawalparasi DLSO and Ramgram Municipality jointly organised the camp and provided accommodation for the staff and a 50% contribution to the cost of supplies.

HART's first vet, Dr Phuyal, who joined government service after leaving HART is posted to Nawalparasi as a section officer and was a key figure in this event.

Ramgram is about 3 hours from Bharatpur on the Mahendra Highway - which is one of Nepal's better roads - and conditions were good throughout the camp with warm dry weather, running water and enough electricity.

The health of the dogs was reasonable and a total of 55 dogs were neutered. These were a mixture of owned, free-roaming community dogs and a few stray.

This camp perfectly demonstrates how the DLSO's and Municipalities of Nepal can work together with NGO's to achieve a rapid advance in their dog population management.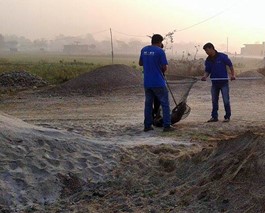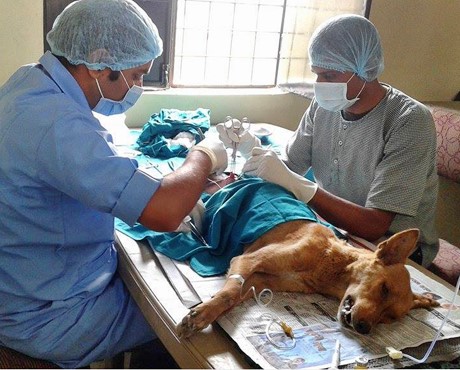 Back to top
---
News from the eastern camps
At last the neutering and vaccination camps in the east that were deferred due to the earthquakes and the blockade are underway.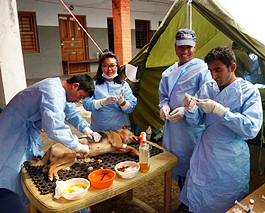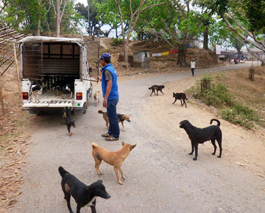 Again this year the Dharan Municipality (now Dharan Sub Metropolitan) and Pet's Home Dharan collaborated with HART to give continuity to the sterilization program in the city. The camp was held from 12-16 March 2016. This neutering camp was our third intervention in Dharan.

As in previous years, the camp was held within the premises of Dharan Municipality. A total of 147 dogs (34 castration, 113 spaying) were neutered. Additionally, 2 cats were spayed. Compared to the previous two years, a high percentage (nearly 40%) of free roaming dogs were brought in by community members and owners.

The Fire Brigade staff members of Dharan Sub Metropolitan allowed HART to use their room to store equipment and supplies and to use water from their storage tank. Water is quite a scarce in Dharan during this season.

A high percentage of free roaming owned dogs had Pyometra as many owners continue to use Depo Provera injections to stop their dog from breeding.

Vijaypur Radio FM station provided the opportunity once again to spread the message about the misuse of Depo Provera injection.

This event was made possible by the dedication and effort of the people noted below:
Mr Shanku Karna Shrestha from Pet's Home who hosted HART with warm hospitality and stayed involved throughout the program. Thanks are also due to Akash Nayaju and Apsara Rai, two volunteers from Pet's Home;

Bivek Shrestha, who both carried out the errands necessary and also entertained the team with musical programs during the farewell;

Volunteers from Dharan Run;

Chandrakala Limbu (didi) for providing breakfast and support;

Sumnima Chamling from Vijaypur Radio FM Station;

The Guna Foundation whose generosity contributed towards travel costs, fuel and supplies.
The HART team moved on to Birtamod after Dharan.

This pilot program was conducted together with the Birtamod Municipality (formed less than two years ago) and the District Livestock Services Office Jhapa. This is a trading town and the people seem very focused on business with little interest beyond this. However Jhapa region has a high rabies risk.

Catching dogs in Birtamod town was very challenging for several reasons:
A high percentage of free roaming dogs are strays;

Unlike in other cities, the community were less supportive (though a huge crowd gathered to see staff catching dogs with a net, which perhaps was fun to them);

Dogs were already frightened by people and even wary of taking food.
Nevertheless, the Birtamod Municipality provided a splendid venue for the team and that eased a lot of pressure. The camp was arranged at a hotel that had beautiful garden for the tents, and welcome shade for both staff and dogs.

Out of 178 dogs that were neutered (168 spaying and 10 castration) over the period of 5 days, only a dozen were brought by the public and the rest were caught by the team using nets.

The Chief Executive Officer of the Birtamod Municipality, Mr Rabindra Osti, spent a lot of his time with HART during the programme. Also the political party representatives attended both formal opening and closing ceremonies. They would like to repeat the programme again next year.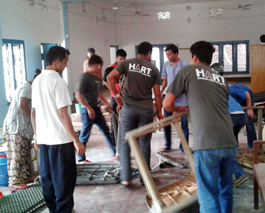 Next came Bhadrapur, Jhapa district, for a further three days. This neutering programme was conducted jointly by Bhadrapur Municipality, DLSO and HART and was our third intervention in the city.

A total of 112 dogs were neutered this time (101 spaying and 11 castrations).

Grateful thanks to Mr Kumar Singh Khatri, from DLSO based in Bhadrapur, for bringing all the stakeholders together and for the warm hospitality extended during the programme. His generosity during the Holi (festival of colours), was greatly enjoyed. The 2016 Holi in Jhapa will be remembered for years to come by everyone involved.

As of writing, the team are now relocating to Illam for what will be HART's fifth annual visit. The four day Illam CNVR will conclude this series of exhausting, but highly productive, HART outreach camps in the east.

This programme was made possible by the generous support of Help Animals International. Their grant for the purpose of assisting animals in this region has at last been utilised as intended.



Back to top
---
JustTextGiving
vodafone help
JustGiving and Vodafone have kindly provided us with a JustTextGiving facility.

This enables you to make a text message donation of £2, £5 or £10 to HART, directly from your mobile phone.

Just send a text to 70070 saying HART01 plus your chosen amount of £2, £5 or £10 eg HART01 £5

All text donations are free, and won't come out of any inclusive texts you have as part of your price plan - even if you're not with Vodafone. You just pay the cost of your donation.


-oOo-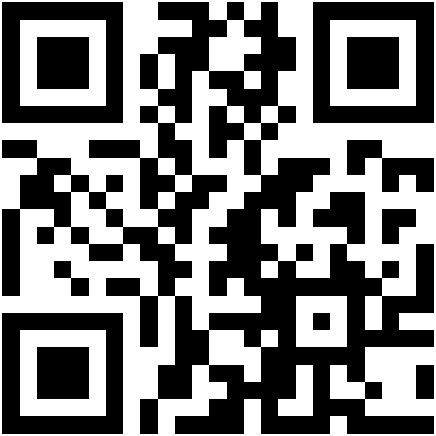 Or, if you have a QR reader, simply scan this QR code to prepare your phone for sending £5 to HART.

A little goes a long way in Nepal. For example, your £5 would provide anti-rabies vaccines to protect more than 10 dogs for a whole year.


Please help if you can.


Back to top
---
---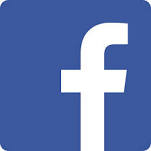 Very many thanks for your continued support
www.hartnepal.org


If you would like more information about our work, please visit our website or contact our Director, Mr Khageshwaar Sharma, at k.sharma@hartnepal.org