Dear HART Supporter,
Nepal will hold its first local elections in 20 years in May, an important milestone in its transition to democracy that the government hopes will culminate in a general election.

Pokhara is now designated a Metropolitan City and is the largest city of Nepal in terms of area after being merged with Lekhnath Municipality and other neighbouring villages.

Bharatpur has also been designated a Metropolitan City and is now the fifth largest of Nepal. It was previously classified as Sub Metropolitan.

The mass anti-rabies vaccination (MARV) programme on free roaming dogs in Pokhara has just been completed.


News from Pokhara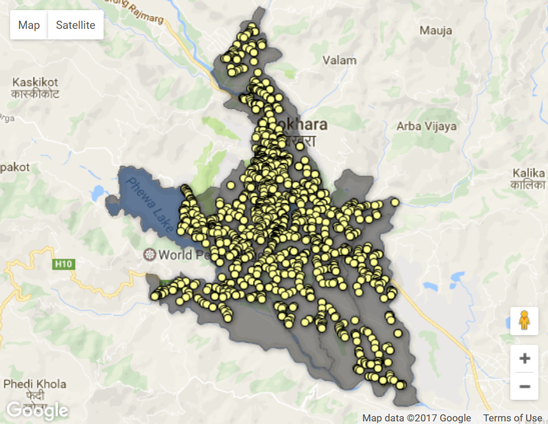 Mass anti-rabies vaccinations
Due to knock on effects after the earthquake, the annual anti-rabies vaccination round in Pokhara could not be carried out in 2016.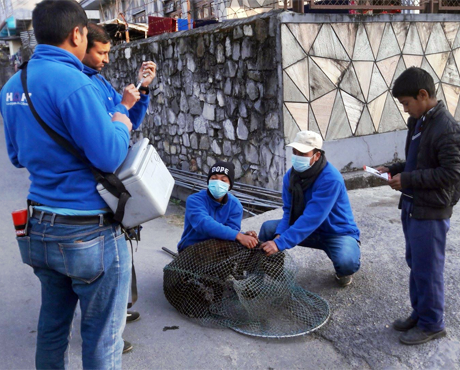 This year, the MARV campaign started on 2nd of February and was completed last week.

During the MARV campaign, staff walk every street of the town vaccinating the dogs and noting any that are not neutered and any that are in need of treatment.

Minor wounds and ailments are patched up on the spot. The annual MARV drive not only provides a detailed health check on all the animals in the town but also enables us to note the location of unspayed bitches in the area. These unspayed bitches are collected and taken to clinic for spaying.

Additionally, staff members hand out leaflets containing information on how to avoid being bitten by a dog as well as rabies information.

By using the specially designed HART phone app, it has been possible to check whether the WHO recommended vaccination coverage of 70% has been reached. If the 70% is not reached the team goes back into the area again to vaccinate the extra number of dogs to achieve 70% within that particular municipal ward.

In order to complete the campaign on schedule, the team from Bharatpur joined up with their colleagues in Pokhara.
Visit to AFU
Khageshwaar Sharma and Michelle Connolly visited the vet school AFU in early March to meet with Asst Professor Manoj Shah to discuss continuity of intensive surgical sterilization as well as other matters for further collaboration.

During the visit the bursary was handed over to three HART scholarship students Khim Bahadur Ale, Sanam Maharjan and Prashant Bhujel.
Back to top
---
News from Bharatpur
The Bharatpur team are moving further and further out from the centre of the town as they look for unspayed female dogs. Journey times to and from the clinic can be over two hours.

The annual anti-rabies vaccination (MARV) will begin shortly and this will enable a full current analysis of the state of Bharatpur's dogs.

In 2016, a total of 1218 dogs passed through the MARV campaign. Of these, 753 were males and 465 were females.

Of the 465 female population, 323 were spayed by HART and 142 were found unspayed. Unspayed females were collected for spaying after the campaign.

Thus the annual round of MARV provides a thorough evaluation of the effects of HART's spaying and welfare programmes.
Back to top
---
Return to Hetauda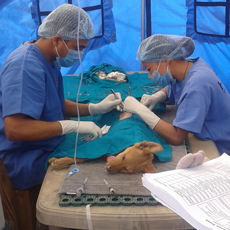 Hetauda is the next major town to the east of Bharatpur.

HART and the District Livestock Services Offices at Makhwanpur, combined to carry out a three day health and neuter camp for the dogs of the area. Thirty females were spayed and vaccinated.

Hetauda Municipality did not collaborate with the event and so the remaining contributors had to find extra resources.

HART's first vet, Dr Pashuram Phuyal, who now works at Nawalparsi DLSO, took on the role of surgeon during the camp and his contribution to the camp was invaluable. We hope to continue working with Dr Phuyal in the future.

Extra thanks are also due to Dr Ram Prakash Pradhan, chief of the DLSO and Dr Sanjeev Thakur for making the continuation of work in Hetauda possible.
Back to top
---
Further afield to Pakhilhawa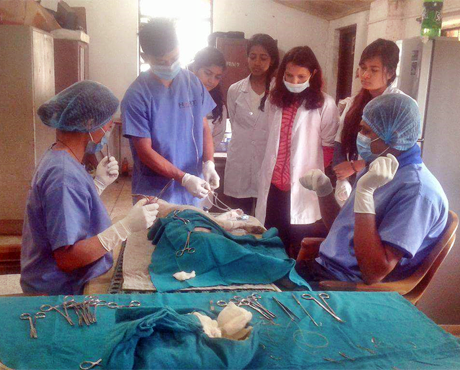 A campus has been established in the region of Pakhilhawa by the Institute of Agriculture and Animal Science. The students there, the IVSA, organised a two day surgery demonstration to mark International Spay Day.

Dr Sanjiv Pandit, HART's resident vet, gave a practical course during which twenty female dogs were spayed and ten males castrated. As ever he emphasised the need for rigorous aseptic measures.

The students said they found the event informative and inspirational.

Regretably, the condition of the dogs in this area is not healthy. To quote Dr Sanjiv:


"During the surgery, sadly three female dogs were encountered having hernia, transmissible veneral tumour and pyometra, but this gave a good opportunity to the students to learn more about the illnesses"
Back to top
---
Continuity in Kathmandu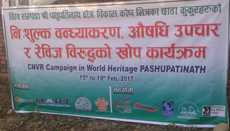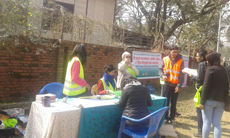 You may have read in an earlier newsletter that, in 2016, a pilot collaborative neutering programme was organized within the Pashupatinath Temple complex, a UNESCO World Heritage Site.

The Pashupatinath Area Development Trust (PADT) collaborated with a group of animal welfare organisations to provide better conditions both for the free roaming dogs which inhabit the Pashupatinath complex and for the thousands of devotees that visit during the Maha Shivaratri.

The Maha Shivaratri is a major Hindu festival which fell on 24th Feb this year. During the festival thousands of pilgrims, who may not all be animal lovers, come to pay homage to Lord Pashupatinath.

It is important that relief work is carried out in advance of the influx of visitors as sick animals can be targets of mistreatment and pups can get trampled and so a repeat camp was arranged for 15-19th February 2017.

Contributing organisations were PADT, Sneha Care, SPCA, CDW, NAWRC, AN, SPCA, STAN, Advance Pet Clinic and HART. Some individuals, including Ms Linda Sherpa, Ms Romi Lama and Lucky Sherpa also extended their valuable time, assistance and support during the programme.

A total of 100 female and 18 male dogs were sterilised and vaccinated against rabies.

Longer-term aims are to maintain a healthy stable dog population with assistance of the PADT and to demonstrate the value of collaborative working.



Back to top
---
Joint venture
The world famous Tiger Tops resort and HART have teamed up to run a mass neutering and vaccination clinic for 200 stray and community owned dogs in the villages around Amaltari from 28th March to 01st April 2017.

Ms Molly Birchmore and Mr Muzza Munro from Tiger Tops visited Pokhara during the MARV campaign to understand the working of the phone app and how the campaign is carried out.

They have conducted a dog census in the villages of Chila, Serganj & Godhar and recorded the locations of over 200 dogs within the vicinity of the Amaltari and the nearby villages.

Many of you will be have seen this link chuffed.org/project/hartdogclinic

May we thank Molly in advance for this tremendous effort. HART has arrived in Amaltari with full resources, combining teams from both Pokhara and Bharatpur, to neuter and vaccinate a target of 200 dogs.

The team are off to a flying start. At the time of writing, with two full days completed, 39 dogs have been spayed and 43 castrated. All dogs vaccinated against rabies of course.

Updates on progress can be found on facebook.com/hartnepal



Back to top
---
JustTextGiving
vodafone help
JustGiving and Vodafone have kindly provided us with a JustTextGiving facility.

This enables you to make a text message donation of £2, £5 or £10 to HART, directly from your mobile phone.

Just send a text to 70070 saying HART01 plus your chosen amount of £2, £5 or £10 eg HART01 £5

All text donations are free, and won't come out of any inclusive texts you have as part of your price plan - even if you're not with Vodafone. You just pay the cost of your donation.


-oOo-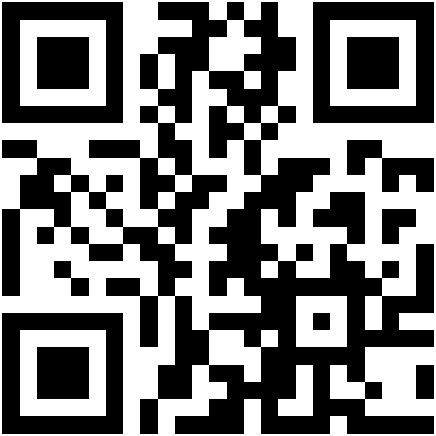 Or, if you have a QR reader, simply scan this QR code to prepare your phone for sending £5 to HART.

A little goes a long way in Nepal. For example, your £5 would provide anti-rabies vaccines to protect more than 10 dogs for a whole year.


Please help if you can.


Back to top
---
---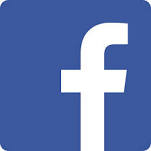 Very many thanks for your continued support
www.hartnepal.org


If you would like more information about our work, please visit our website or contact our Director, Mr Khageshwaar Sharma, at k.sharma@hartnepal.org