Dear HART Supporter,
The extended monsoon has caused great destruction of life and property in many areas of the country.

The lower lying regions in the south of Nepal have been particularly badly hit and even the international media have taken note.

The re-structuring of the political system continues and there will be many changes in the next few years.

The great festival of Dashain began on 27th September this year and HART will closed for a week.

HART wishes all its Nepali friends and supporters a Happy and Peaceful Dashain.
News from Pokhara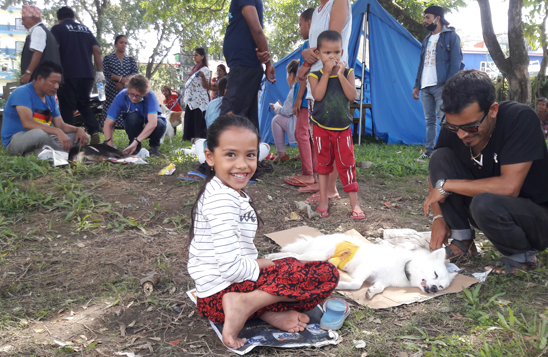 With the early start of Dashain this year, World Rabies Day on 28th September and World Animal Day on 4th October, this period is an especially busy one.
World Rabies Day
A two-day programme was conducted on 24-25 September at Lakeside in Pokhara where 24 dogs were neutered and vaccinated.

A mass anti-rabies vaccination camp was held at Pokhara Lekhnath Metropolitan Ward 33 on 26 September, where 96 dogs were vaccinated and and an additional 8 dogs were treated for wounds, skin allergy and deworming.
Rescues
Two recent rescue cases are notable: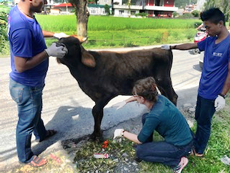 An injured bull calf was found in the street by visitor, Alexis Foo. She and her friends looked after the calf and named him Byron.

As Alexis reported, they were unable to persuade a local veterinarian to treat the calf as it is a street animal and eventually turned to HART.

Byron has been treated and is recovering well. He has been moved to a central pen for street cattle but has to continue to be fed by local friends as there is not enough food in the pen.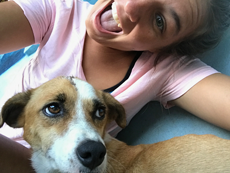 A volunteer at a local orphanage, Georgia Suddath, became involved with a street dog that the orphanage owner was trying to get rid of. She and her colleagues protected the dog for many days against the threats but eventually realised that it would never be safe in the area.

They brought the dog to HART and named her Sanu. She is very thin but otherwise in reasonable health. Georgia and her mother Mimi hoped to find Sanu a home in Pokhara but realised that this is extremely unlikely to be acheivable.

They will attempt to bring Sanu to the US and the long and complex process of export has begun.
Back to top
---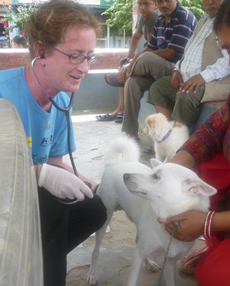 Volunteer Consultant
HART is delighted to welcome back Michelle Connolly who will spend the next few months in Nepal advising and assisting HART and other animal welfare NGOs

Michelle has expertise in both large and small animals and is able to offer consultation on a range of animal ailments.

She has brought with her an invaluable supply of donated medicines and equipment received from her friends and contacts in the UK.
Back to top
---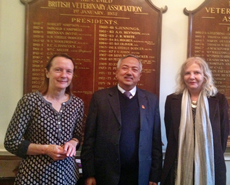 Travels
HART's director, Khageshwaar Sharma visited the UK in August. This was an opportunity to make plans for the future with co-founders, Jim Pearson and Barbara Webb, and also to meet with supporters and grant awarders.

Jim and Barbara were delighted to be able to meet Prof. Dhakal, Vice Chancellor of the Agriculture and Forestry University, while he was visiting the UK.

Prof Dhakal has been a good friend to HART for many years. The trip provided an opportunity to visit the British Veterinary Association where Helena Cotton has also been a good friend to HART for many years.



Back to top
---
Collaboration in the Annapurnas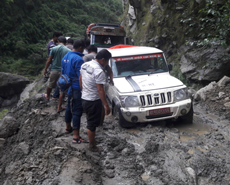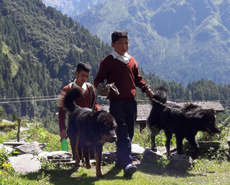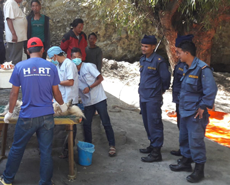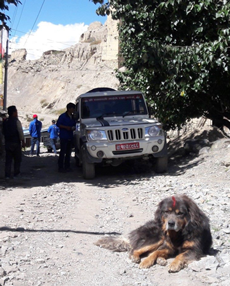 A programme in the high regions of the Annapurnas along part of the Annapurna circuit was held with Himalayan Mutt Project in the first two weeks of September.

The heavy and extended monsoon made roads that were already difficult virtually impassable. The first village, Kalopani, should have been reached in around 8 hours but it took two days to get there. The teams were brave and determined to press on and began work in Kalopani and the next village, Kobang, immediately after arrival.

Over the following days the teams moved from village to village vaccinating, neutering and treating. Sadly 11 dogs had been killed a few days previously in the village of Tukche. This is traditional in these remote regions that are beyond the reach of modern interventions to control animal populations. The villagers could watch the operations to neuter dogs and realise that killing is not necessary but of course the 11 dogs that died cannot be brought back.

The teams moved on to the town of Jomsom where 45 dogs and 3 cats were neutered. The local DLSO was very helpful but community members found watching the difficult and sometimes dangerous process of catching the big mastiffs entertaining.

Jomsom was followed by Kagbeni, a beautiful high village, where the local community participated whole heartedly and brought their animnals to the vets and cared for them after their operations.

The progamme culminated in Muktinath. This is a holy place for pilgrims where the everlasting fire burns and many team members felt proud to be there.

A total of 101 animals were sterilised and 150 were vaccinated throughout the programme and the concept of humane animal population management was introduced to a major new region.

The trip back was uneventful and the teams were back in Pokhara on the 19th September

Results can be seen on the Dog Data website at www.dogdata.uk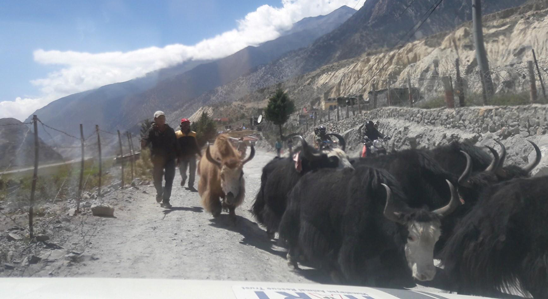 Back to top
---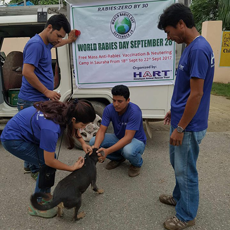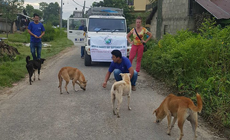 News from Bharatpur
The Bharatpur team have been closely involved with events for World Rabies Day and World Animal Day.

Two groups of vet students, the IVSA and the NVSA, have organised vaccination camps in the areas around Chitwan. HART has been able to provide some assistance and the students are using the HART mobile phone apps to record their vaccinations.

Results can be see on www.dogdata.uk

The Bharatpur team returned to Sauraha, in Ratnanagar Municipality, to continue the annual programmes there. In total 46 dogs were neutered and 132 vaccinated.

HART would like to thank Martina Manders and Om Rizal for their major involvement in this work.



Back to top
---
JustTextGiving
vodafone help
JustGiving and Vodafone have kindly provided us with a JustTextGiving facility.

This enables you to make a text message donation of £2, £5 or £10 to HART, directly from your mobile phone.

Just send a text to 70070 saying HART01 plus your chosen amount of £2, £5 or £10 eg HART01 £5

All text donations are free, and won't come out of any inclusive texts you have as part of your price plan - even if you're not with Vodafone. You just pay the cost of your donation.


-oOo-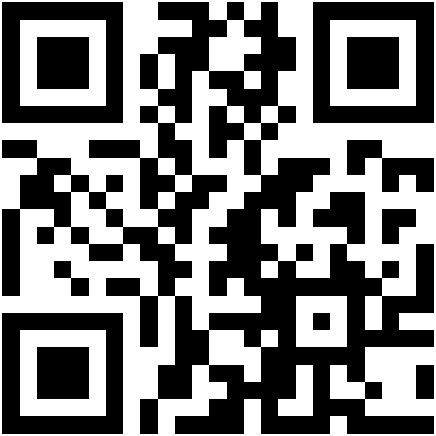 Or, if you have a QR reader, simply scan this QR code to prepare your phone for sending £5 to HART.

A little goes a long way in Nepal. For example, your £5 would provide anti-rabies vaccines to protect more than 10 dogs for a whole year.


Please help if you can.


Back to top
---
---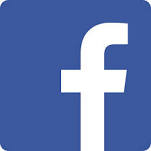 Very many thanks for your continued support
www.hartnepal.org


If you would like more information about our work, please visit our website or contact our Director, Mr Khageshwaar Sharma, at k.sharma@hartnepal.org