Dear HART Supporter,
The tragic loss of Asmita Rai just after the completion of three weeks of intense work in the eastern region has given all at HART an immense shock. The rest of the team members have only just returned to their bases. Some have attended her funeral and are now still travelling back.

The newsletter is compiled with much grief and it is dedicated to Asmita who was a key member of the team in the events reported.


News from Pokhara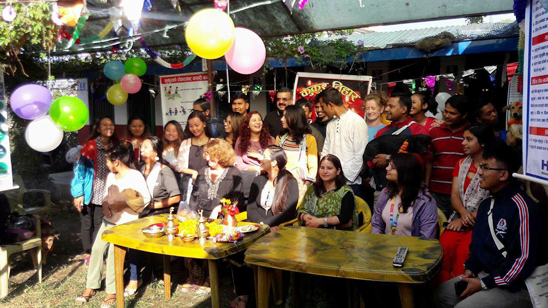 The festival of Dashain was followed by the festival of Tihar in early October.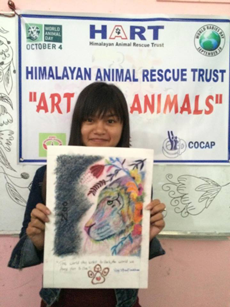 World Animal Day on 4th October was marked by an innovative new event, "Art for Animals", organised by HART's Comms Officer, Anjani Gurung.

Quoting Anjani:


"We asked our participants to express their opinions and feelings for animals on a white canvass by using colours.

The main theme behind this programme was to provide people an opportunity to self-evaluate their feelings for other life.

A total of 52 participants attended the programme.

It was conducted at three different venues; Atomic Universal Academy, Pokhara Public Library and COCAP.

Many programmes intend on the participants to listen but we wanted our participants to 'do' rather than just 'listen'. And, we have got some really good works"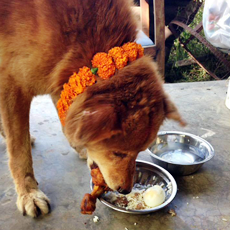 On Oct 18th Kukur Tihar (Dog Day) was celebrated at HART's base in Pokhara.

Friends and animal lovers joined HART staff to give homeless and owned dogs special food and garlands.

The offices were decorated and there was a special cake for the guests.

A great time was had by dogs and guests alike.


Back to top

---
An Award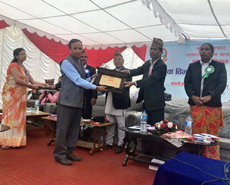 The work of HART's staff was recognised and rewarded by the Nepal Government Department of Livestock Services on 30th October.

Mr Krishna Devkota received the award at a ceremony in Kathmandu on behalf of HART.

Quoting from Khageshwaar Sharma:


"Throughout the year, all the members of HART work very hard to help the animals in need.

Since its inception in 2010, we have tried our very best to reach out to more areas and have left no stones unturned in the process. We have endured the heat and sweat in the Terai (southern region) as well as battled the heart-piercing cold of the Himalayas; all for the sake of the animals.

During natural calamities in the country, we understand that our efforts need to be multiplied exponentially and we need to take an immediate action.

It is really nice to see our hard work being acknowledged. Awards like this add to our zeal for what we do.

We would like to share this honour with all friends, well-wishers and supporters of HART".
Back to top
---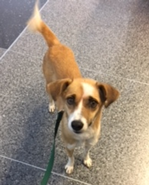 A Fairy Tale Ending
In the last newsletter the rescue of Sanu by Georgia and her mother Mimi was mentioned.

Despite delays and difficulties this story has the happiest of endings and Sanu is now a welcome member of their family in the US.




Back to top
---
Satellite Neutering Programmes
Arjun Dhara Municipality (30th Oct to 5th Nov)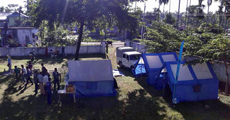 HART teams from both bases travelled to Jhapa District in eastern Nepal where neutering programmes had been arranged at the three Municipalities of Arjun Dhara, Kankai and Birtamod.

As there is unrest in Birtamod a final decision on the programme was delayed. These programmes build on previous work.

The programmes began on 30th October began with a formal gathering at the Livestock Services Office of Arjun Dhara, where the newly elected Mayor, Mr Hari Kumar Rana, the Deputy Mayor, Mrs Kamala Acharya, the Executive officer, Mr Radhe Krishna as well as Dr Madhav Dahal, Chief of Jhapa DLSO, journalists, political party representatives were in attendance.

Various speeches were delivered which stated the need for dog population control and rabies management. With the next provincial elections due soon, it is encouraging to see newly elected Mayors and their officials giving such attention to this work and steering away from poisoning.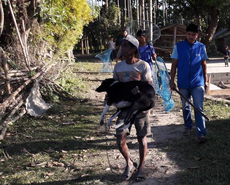 The Municipality has provided some assistance with funding and the Livestock Services Office is actively involved by target setting and engaging vet tech students to carry out vaccinations. They will update their results on the DogData website www.dogdata.uk

During the work in Jhapa the local media have been most co-operative thorough TV, radio and newspapers.

The target for the programme in Arjun Dhara Municipality was to neuter 200 dogs and in fact 221 were sterilized.

Special thanks are due to Mr Padam Rai and his team and to Rebecca Lund Ertel.
Kankai Municipality (7th Nov to 13th Nov)
After a warm farewell from Mayor Magar the combined teams moved on to Kankai Municipality where DLSO chief, Dr Madhav Dahal, greeted them.

An introduction was arranged with Mayor Rajendra Pokharel and, after discussions, a community hall was selected as the programme venue.

The following day there was a lively media briefing attended by many journalists keen to find out what humane DPM entails and also keen to point out that the area needs to progress in many other respects. The journalists asked to watch dogs being caught and were taken into the town to observe this. There were three sad requirements for euthanasia.

The programme successfully neutered 206 dogs but the statistics indicate how much work needs to be done for animal welfare in this area:
94% of the dogs had to be caught by the team, only 6% were brought by the owners to the venue
60% of dogs were male and 40% female
28% of the female dogs were found pregnant during surgery
15% bitches were lactating, and
6% had pyometra
A local vet technician said that two years ago a person had died of rabies in Durgapur (close to the camp venue) and it was decided to conduct a school programme whilst the neutering programme was taking place. Five schools were given lessons about rabies and how to avoid being bitten by a dog. Altogether 585 students participated.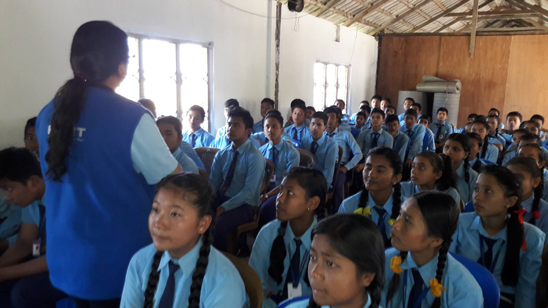 Communications Officer, Anjani Gurung, who conducted the school programme, remarked:


"I was taken aback by the fact that many students were completely unaware about severity of rabies in humans or its transmission or dog neutering. All they knew was that rabies was a disease; no further details. We definitely need to be organising more such programmes in the area."

During the official closing of the programme, the Mayor of Kankai Municipality committed to give continuity to the neutering programme annually and thanked HART and its team for the collaboration. He further said that programmes that focused on street and community dogs were a big learning experience.

The neutering programme in Birtamod Municipality is now completed. More details in the next newsletter.



Back to top
---
JustTextGiving
vodafone help
JustGiving and Vodafone have kindly provided us with a JustTextGiving facility.

This enables you to make a text message donation of £2, £5 or £10 to HART, directly from your mobile phone.

Just send a text to 70070 saying HART01 plus your chosen amount of £2, £5 or £10 eg HART01 £5

All text donations are free, and won't come out of any inclusive texts you have as part of your price plan - even if you're not with Vodafone. You just pay the cost of your donation.


-oOo-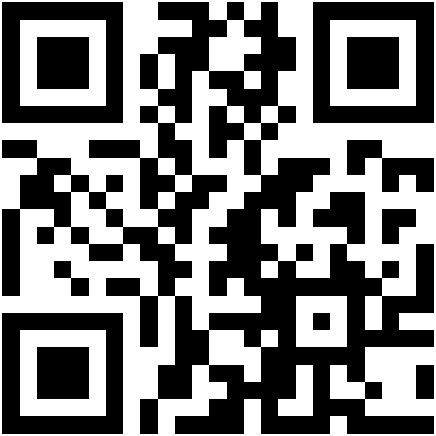 Or, if you have a QR reader, simply scan this QR code to prepare your phone for sending £5 to HART.

A little goes a long way in Nepal. For example, your £5 would provide anti-rabies vaccines to protect more than 10 dogs for a whole year.


Please help if you can.


Back to top
---
---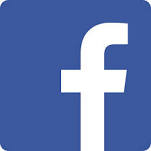 Very many thanks for your continued support
www.hartnepal.org


If you would like more information about our work, please visit our website or contact our Director, Mr Khageshwaar Sharma, at k.sharma@hartnepal.org