HART is based in Pokhara and Bharatpur and is engaged in animal welfare work throughout Nepal.


Board:
Mr T Shrestha
Ms S Paneru
Mr K Sharma
Technical Advisor:
Dr R Lyon
Legal Advisor:
Mr K Devkota
Regional Advisor:
Mr R Bhattachan
UK Advisors and Administration:
Ms B Webb
Mr J Pearson



Himalayan Animal Rescue Trust is registered in Kathmandu as a not-for-profit company, registration number 248/066/067 and as an NGO, registration number 3571/069.
HAT(UK)
Himalayan Animal Treatment Centre (UK), HAT(UK), is registered with the Charity Commission in the UK - number 1115822.

This charity acts as the collection and holding point for funds raised outside of Nepal.
About us
Why
HART exists to try to redress some of the suffering endured by animals that are without power to control their lives. Neglect, cruelty and ignorance combine to make the world a hostile place for many creatures.
Nepal
Nepal suffered many years of political turmoil in the 1990s and early 2000s. A new constitution was enacted in September 2015 following a devastating earthquake in April that year. Animal welfare is a low priority among many other pressing concerns. HART was established in 2010 to reduce animal suffering thoughout the country from its bases in Pokhara and Bharatpur.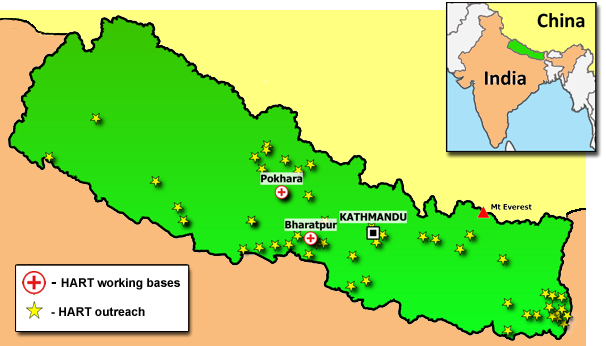 Pokhara
Pokhara was originally a market town, but has grown into a tourist destination over the past thirty years. It is about 200km from Kathmandu and is growing rapidly after amalgamating with the adjacent town of Lekhnath. An international airport is due to open in 2022.

It's situated near Lake Fewa at the base of the Annapurna range foothills and is regarded as Nepal's second city.

HART will soon be moving from its current location to larger facilities being built in Titepani, across the Damside of the Fewa Lake. There are no other organisations providing care for street and community dogs in the town.
Bharatpur
Bharatpur is a city in the central-southern part of Nepal, located in the Chitwan district.It is 126km from Pokhara and close to the popular Chitwan National Park. It is the headquarters of the district as well as a separate Metropolitan authority, and like Pokhara has amalgamated with adjacent smaller towns.

Bharatpur is also a market town and a focal point for the agricultural activity that takes place in the fertile lands along the border with India.

HART has built a clinical facility for animals near the centre of the town together with kennels for cases that need nursing. As in Pokhara, this is the only veterinary care available for street animals.
Outreach work
In addition to continuing programmes in its base towns, HART responds to Municipalities throughout the country who require assistance in transitioning from culling their street dog populations to managing these populations humanely. This additional work takes place in the form of temporary veterinary camps where street animals are neutered, treated and vaccinated in large numbers.